Marfrig plans massive restructure to reduce costs and trim debt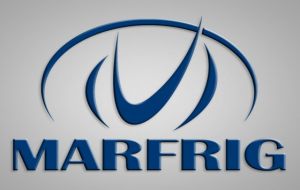 Brazilian meat processor Marfrig will restructure multiple segments of the company between now and December in an effort to reduce costs and trim away at its current debt of BRL10.3 billion (5.8 billion dollars), the company's president said this week in an interview with Valor Economico newspaper, partly reproduced by Meat trade news Daily.
The cost-cutting measures should include the unification of cattle divisions for Brazil, Argentina and Uruguay, and the consolidation of multiple services offices in Brazil like human resources, accounts payable/receivable and purchase orders for all divisions into one office in Itajai, Santa Catarina state. The company will also open a new major distribution centre in Sao Paulo to replace six regional centres.
With the unification of cattle divisions from the three countries the company will only have one CEO for the region, instead of one for each country. The strategy for this business segment, which accounts for 35% of company revenue today, will be total unification.
Synergy gains for the company were recommended through a study commissioned from Bain & Company last year. The agency's study of Marfrig found it could make substantial gains in cost reduction, improving working capital and commercial synergies in cattle.
Marfrig is currently valued on Brazil's Bovespa stock market at BRL2.4 billion (1.36 billion dollars), equivalent to 40% of its net worth, the worst ratio among companies in its industry. JBS SA, for example, has a capitalization of BRL11.9 billion (6.75 billion dollars), roughly half its net worth. Minerva is the only meat processor of these three worth at least its "book value," about BRL490 million (278 million dollars).
Marfrig President Marcos Molina declined to tell the newspaper how much cost savings would be gained from the company's restructuring, but industry analysts estimate that the cattle division unification alone should generate BRL80 million to BRL100 million (45-56 million dollars) in savings.
In an attempt to reduce debt, last month the company sold the logistics branch of its US subsidiary Keystone Foods for 400 million dollars. Marfrig has also put its terminal space at the Port of Itajai up for sale, admitted it will discard whatever isn't "core business," and won't increase investments next year.
One problem that has continued to affect Marfrig's bottom line, analysts say, are difficulties integrating various acquisitions in recent years, like the Seara brand from Cargill in 2009. Molina says that "synergies are coming, but they're a long-term plan".
Marfrig had to invest in production lines for Seara because it lacked the capacity to meet higher demand from clients. The company may have also stretched itself thin launching and marketing 120 branded products.
Marfrig plans to improve results in part by focusing more on processed foods. In addition to improving profit margins, this would help the company take advantage of more tax credits. In Brazil, exporters of fresh beef don't benefit nearly as much from tax credits as those who export processed foods.