YPF announces a billion barrels shale-oil discovery in Argentina
Tuesday, November 8th 2011 - 08:13 UTC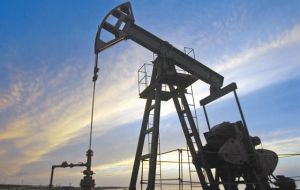 Oil company YPF confirmed Monday the finding of its biggest oil discovery in Argentina yet to the Buenos Aires stock exchange. The discovery was made in the Neuquén province and is equivalent to 927 million barrels.
The nearly a billion barrels in unconventional energy resources found in Patagonia, more than double Argentina's annual oil consumption.
The find at YPF Loma La Lata property in Neuquen province could eventually help put the brakes on falling oil production in Latin America's No. 3 economy, where energy demand is rising due to strong economic growth.
"This find will transform the energy potential of Argentina and South America, boasting one of the world's most significant accumulations of non-conventional resources," a statement released by the company said.
Independent energy analyst Eduardo Fernandez said the 927 million barrels of oil equivalent (boe) that YPF announced on Monday represented just over twice the country's annual oil consumption of between 400 million and 450 million barrels.
"This would be about two years worth of reserves. This is very good, but it doesn't resolve the country's energy problems," he said.
The shale resources lie in a 428-kilometre square area at the Loma La Lata property in the southern province of Neuquen, where the company announced a large unconventional natural gas find nearly a year ago.
YPF said it was already producing about 5,000 boe per day in the area, adding it had also demarcated a new site nearby that "raised expectations of large volumes for future development".
According to the US Energy Information Administration, Argentina's proved petroleum reserves in 2009 totalled 2.62 billion barrels.
Argentina has been forced to import more fuel to meet its needs in recent years and critics blame government intervention in the market and political uncertainty for discouraging investment in exploration.
YPF crude production has eased over the last three years to 107 million barrels in 2010 from 111 million a year earlier and 115 million in 2008.
YPF, the local unit of Spain's Repsol started work to develop unconventional energy resources in Argentina in 2007, announcing the first results last year with the shale gas find at Loma La Lata.
Soon after that discovery, a US Department of Energy report showed that Argentina holds more natural gas trapped in shale rock than all of Europe does -- a 774-trillion-cubic-feet bounty that could transform the outlook for Western Hemisphere supply.