Piranhas attack tourists in famous Brazilian Pantanal river beach
Friday, November 18th 2011 - 06:21 UTC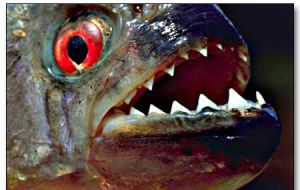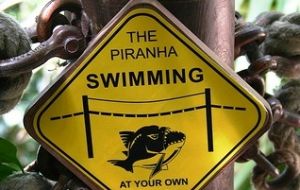 Thousands of flesh-eating piranhas have infested a Brazilian river beach popular with tourists, biting at least 15 unwary swimmers. One of the bathers lost the tip of their toe during a frenzied attack.
Officials in the city of Caceres said it was the first time piranhas had been seen at Daveron beach, on the Paraguay River. The aggressive razor-tooth fish began schooling there about two weeks ago.
Elson de Campos Pinto, 22, who was bitten on Sunday, said: 'I took a dip in the river and when I stood up I felt pain in my foot. I saw that I had lost the tip of my toe. I took off running out of the river, afraid that I would be further attacked because of the blood. I'm not going back in for a long time.'
Firefighter Raul Castro de Oliveira told Globo TV's G1 website: 'People have got to be very careful. If they're bitten, they've got to get out of the water rapidly and not allow the blood to spread.'
Authorities said the beach would remain open because it is an important draw in Brazil's Pantanal region, known for its ecotourism.
Each September, Caceres, in the western state of Mato Grosso, hosts what local officials bill as Brazil's biggest fishing festival, a week-long event that draws 200,000 people for fishing tournaments and concerts.
Gonzaga Junior, a spokesman for the city government, said he did not think the piranha attacks would hurt that event since it is many months away. He said: 'Everyone knows there are piranhas in the region and have always taken the necessary precautions.
'What is different this time is that they've appeared where they never appeared before.'
The city has seen far fewer people than normal use the beach because of the attacks. It was deserted on Tuesday, a national holiday in Brazil.
Officials have put up large signs warning swimmers about the piranhas, reading in blood red letters: 'Attention swimmers. Area at risk of piranha attacks. Danger!'