Falklands' oilfield development, Rockhopper Exploration next move
Friday, December 9th 2011 - 06:32 UTC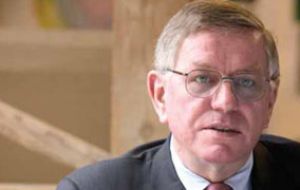 Rockhopper Exploration announced Thursday in its interim results statement that the Falkland Islands drilling campaign has been very successful as it has established the Sea Lion discovery as a world-class asset.

The appraisal and exploration drilling is now coming to an end, with the final well currently in progress. Subsequently Rockhopper is focusing on engineering and financing as it moves towards a final investment decision for a future oilfield development in Falklands waters.

This could involve bringing in a new partner Rockhopper said in the interim results statement adding it has prepared a data room for potential industry partners and debt providers to assess the successful Sea Lion discovery.

"We continue in the rare position of holding 100% of what we are proving up to be a world-class asset, which makes a range of options available to us," said Chairman Dr Pierre Jungels.

"Having established that the field is commercial and that it will be developed, we will now look to proving how, and potentially with whom, best to achieve such a development."

Rockhopper said that following the recent appraisal drilling it will revise its oil-in-place estimates for Sea Lion, which currently stand at 1.2 billion barrels in the mid-case scenario. It subsequently plans to complete a new competent persons report by the end of March.

Recent studies suggest Sea Lion will likely to be produced via 18 production wells spread across three drill centres, giving a plateau rate of 80-90.000 b/d. Any production from the adjacent Casper discovery, the various B sands and any future finds in the area could further lift the production rate.

Meanwhile it said that its engineering work is proceeding to plan. It expects concept screening and concept engineering to be completed by year end. This will provide the firm with a sound basis to start the pre-selection of front-end engineering and design early next year, it said.

Furthermore it said that it has made a promising start to the financing process. According to Rockhopper it has been well received by all of the lending banks it has held introductory conversations with.

The company must complete its oil-in-place estimates and come up with detailed development costs and a timetable for first oil before it can progress to the next stage of financing talks, it said.

"For this piece to progress to the next stage we need to conclude on our volumes in place and then work up the detailed development costs and timings expected to get to first oil", said Rockhopper chief executive Sam Moody.

"The group continues to look at a variety of means of financing the Sea Lion development including lending banks and potential industry partners. Costs for the development will depend on decisions such as whether a purchased or leased FPSO is used or whether the field development is by a full field or phased approach."

He added: "The group has sufficient funds to get comfortably to a final investment decision in relation to the Sea Lion field.

"Inevitably as drilling activity draws to a conclusion and the main focus of the group will shift from the field appraisal to the engineering, regulatory and financing aspects of the field development."

Rockhopper Exploration mentioned among its operational and financial highlights: well 14/10-5 successfully flow tested; 14/10-6 successfully appraised and 14/10-7 successfully appraised, plus 131 million dollars resources available at 30 September.
Furthermore, 14/10-8 declared a dry hole; 14/10-9 declared a successful appraisal and Casper declared an oil & gas discovery with 188 million dollars resources available at 31 October 2011.