Falklands' conflict Harrier fleet sold to the US Marines for spares
Wednesday, January 11th 2012 - 06:34 UTC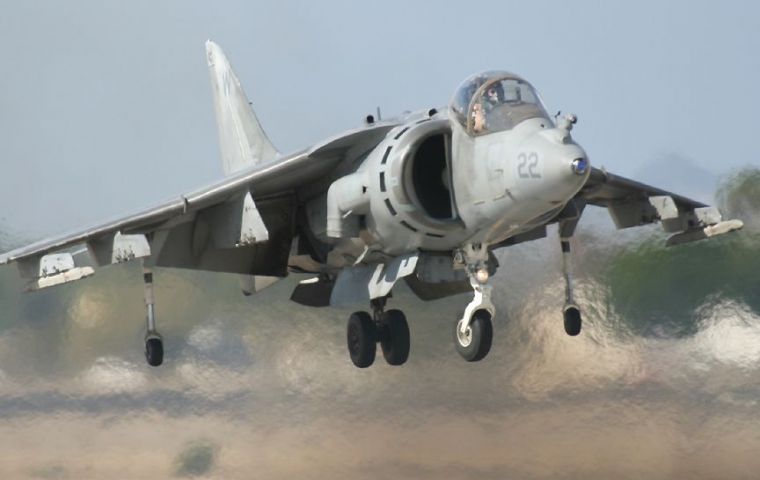 The fleet of vertical take-off Harrier aircraft, a crucial weapon in the 1982 Falkland Islands conflict has been sold to support the US Marine Corps in a deal worth £110m, reports the British press.
The Harrier fleet, which was were based at RAF Wittering and RAF Cottesmore before they were axed at the end of December 2010, have been sold to help support the US Marine Corps Harrier fleet in the air for another 15 years.
The Ministry of Defence said the airframes and associated parts from the 72 Harriers it has sold would be used as a major source of spares to support the US aircraft.

The fleet was being stored in a hangar at RAF Cottesmore, which is currently a satellite of RAF Wittering but will close at the end of March.

RAF Wittering spokesman Sqn Ldr Tony Walsh said much of the fleet had already been moved. "The remainder is going between now and March 31 and there are still staff working there packaging it all together.

"The move is being staggered because it is difficult logistically to move such large aircraft and the parts."

The UK Government axed the Harrier as part of the Strategic Defence and Security Review and said it would save about £1bn overall.

Minister for Defence Equipment, Support and Technology Peter Luff said: "Harrier served this country with great distinction but retiring it eight years earlier than planned was the right decision.

"Had we taken the decision to decommission Tornado instead we would not have been able to carry out the missions that were required simultaneously in Libya and Afghanistan. It was essential to retire older, less capable aircraft to allow us to invest in more modern, cutting-edge fast jets.

"The sale of Harrier is evidence of our commitment to working closely with our allies and represents a good deal for both countries."

The Harriers were famously featured in an iconic report from the 1982 Falklands conflict. As the planes landed on an aircraft carrier, BBC man Brian Hanrahan said: "I counted them all out and I counted them all back."