Friday,
January
20th
2012
- 00:00 UTC
Ambassador Argüello presents credentials and gives Obama a 'one dollar' gaucho silver knife
Argentina's Ambassador in United States Jorge Argüello delivered his credential letters to President Barack Obama, who expressed his "joy" for the positive results of his counterpart Cristina Fernández surgery.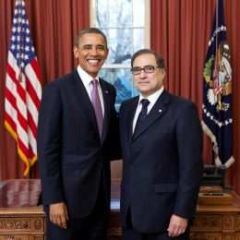 In the twenty minutes encounter, Obama also highlighted that the bilateral relationship has "meaningful opportunities for the future" after the strengthening of the bilateral bond in the last few months.
Obama received Agüello with a warm "Buenas tardes, embajador" (Good evening, ambassador) at the White House in an act in which the official became appointed as Argentina's Extraordinary and Plenipotentiary Ambassador before the US.
During the meeting, Obama showed interest in Cristina Fernández health: "I'm glad everything turned out great," the Head of State said and added he has "a great passion for Argentina, a Borges and Cortázar reader".
"Our bilateral relationship has a long history and we see significant opportunities for the future. I'm sure that, with your support, we'll reach our shared aims" President Obama told ambassador Argüello.
The Argentine ambassador said Buenos Aires was fully committed to continue forward in a constructive way, with a wide ranging and inclusive agenda that addresses both bilateral and well as hemispheric and global affairs.
The new Ambassador remembered that both countries had suffered "the attacks of international terrorism that affected innocent victims," and highlighted that Argentina will continue "demanding justice" in order to "trial the instigators, perpetrators and authors of the violent attacks to the Israel Embassy and the Argentine Jewish community centre (AMIA) in 1992 and 1994".
The Argentine ambassador presented President Obama with a silver plated knife engraved with his initials and explained that it was customary among gauchos to give such presents as a token of friendship, but tradition also demands that who receives the knife must "symbolically" pay for the gift.
Obama immediately accepted the invitation and paid Argüello a symbolic one dollar coin for the gaucho silver knife.
Argüello attended the meeting with his wife and four children.