As demands pile up, Venezuela requests to leave World Bank arbitration court
Thursday, January 26th 2012 - 05:02 UTC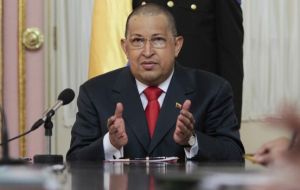 Venezuela's government officially requested this week to leave the World Bank's arbitration court as demands pile up from abroad for compensation following a decade of nationalizations under President Hugo Chavez.

The exit will help protect "national sovereignty," the Foreign Ministry said in a statement. Among companies in dispute with Venezuela are Exxon Mobil Corp. and Owens-Illinois Inc., the world's largest maker of glass containers.

Venezuela's membership of the International Centre for Settlement of Investment Disputes dates back to 1993, six years before Chavez pushed through a new constitution that said disputes should be settled in local courts, according to the ministry. Since then, Chavez has seized assets in the energy, mining and telecommunications industries.

"Venezuela had weak governments that decided to participate in the international arbitration court in the past after being forced by multinational companies," the ministry said. "The government will continue to implement policies that defend national sovereignty and in particular issues related to strategic assets, offering fair compensation to individuals and companies, in agreement with local laws."

Chavez said on Jan. 8 that Venezuela would pull out of the ICSID and not accept any of its rulings. The court is currently considering about 20 suits filed by companies against the government.

A separate court has awarded Exxon Mobil Corp. about 750 million dollars in compensation for assets seized in 2007, while the ICSID decision is still pending.

Chavez threatened to withdraw from ICSID as early as 2007. If he follows through this time, it's unlikely to affect arbitrations already under way, said Michael Nolan, a partner in the Washington office of Milbank, Tweed, Hadley & McCloy.

"Chavez is not going to solve Venezuela's very serious international legal problems with either speeches or even a formal denunciation of the ICSID convention" pointed out Nolan.

Venezuela Prosecutor General Carlos Escarra said on Jan. 16 that it may take as many as 15 years to renegotiate bilateral investment treaties before it can leave the arbitration court.

Venezuela has treaties with 24 countries that need to be amended or canceled before authorities can pull out of the Washington-based International Centre for Settlement of Investment Disputes, Escarra said.