Deployment of Prince William in Falklands is a routine mission, says MoD
Friday, February 3rd 2012 - 16:18 UTC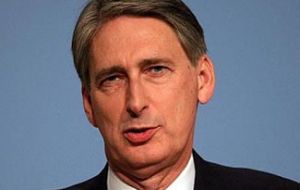 UK's Defence Minister Philip Hammond reiterated Friday that the deployment of Prince Williams to the Falkland Islands is a routine mission planned long ago, and rejected suggestions the decision to send the heir to the throne to the region represented an escalation of the UK's position.
"Prince William is a Royal Air Force (RAF) officer, who will be conducting helicopter search and rescue trainings as part of a routine mission. All RAF pilots spend some training time in the Islands", Hammond told reporters in Brussels, where he arrived to participate in the NATO Defence Ministers summit."
"His presence shouldn't trigger any tensions. The Prince is on a humanitarian mission training focused on the search and rescue."
The heir to the British throne will be crewing one of two search-and-rescue helicopters on call 24 hours a day for missions flying out of a large British military base, 45 minutes from Port Stanley, the Falklands' capital.
Argentine Foreign Minister Héctor Timerman slammed Prince William's visit, saying it is an act of provocation as the Prince "will be arriving with the uniform of a conqueror, and not with the wisdom of a statesman that works toward the world's peace, and the promotion of open dialogue between nations."
Also referring to William's tour of duty as an RAF search and rescue pilot, Timerman expressed his rejection to "the British attempt to militarise the conflict."