Friday,
March
2nd
2012
- 05:06 UTC
Falklands distrust to Argentine proposal, but recall 1999 deal is 'three sided'
Falkland Islanders reacted with skepticism and further distrust to the latest announcements by Argentine president Cristina Fernandez regarding air links with Argentina, while Falklands' elected lawmakers said the proposal was too 'muddled' and with errors for the local government to respond.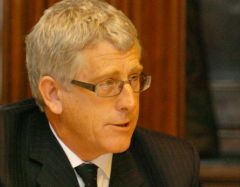 Nevertheless, if the intention was to re-open negotiations on the 1999 three side (UK, Argentina, Falklands' government) agreement, then "the Falkland Islands would look forward to discussing the principles agreed at that meeting which have since been abandoned by Argentina".
In her State of the Nation speech to Congress President Cristina Fernandez announced Argentina's intention of negotiating, with the UK, direct air links between Buenos Aires and the Falklands, based on a review of the 1999 agreement, but leaving aside Lan Chile and opting for Aerolineas Argentinas.
Falkland Islanders who still have bad memories of similar experiences with direct flights to Argentina a few decades ago, regarded the proposal as a deeply cynical political move designed to suppress increasing worldwide criticism of Argentina's extremely aggressive "Malvinas" policy targeted at a community of 3.000 people.
Currently the Islands are served by one commercial flight a week from Punta Arenas, Chile, by LAN airlines, which twice a month it stops in the Argentine town of Rio Gallegos. Argentine agreement to the flight was one of the policies included in 1999 British/Argentine agreement, in which the Falkland Island Government also took active part.
The air link with Punta Arenas remains the only principle agreed that Argentina has abided by, although as recently as September 2011 President Fernandez said before the UN General Assembly that she was considering placing a ban on the use of Argentine airspace for the LAN flight.
For close observers of Argentina's recent up-scaling of diplomatic maneuvers on the Falklands, the announcement appears both contradictory and indicative of an erratic approach that is more tactical than strategic.
As recently as 3 weeks ago Argentine Ambassador to Uruguay, Dante Dovena, declared in relation to a Uruguayan business delegation to the Islands that: "We see it with good eyes; we don't want to affect the lives of the Islanders, on the contrary. We have no pre-disposition towards the Islanders, and we don't want to establish any blockade of any kind"
However, in a week when two cruise ships flying British or convenience flag were banned from Ushuaia and the Argentine Government is urging businesses and industry to ban imports from the UK, it is most unlikely that Falkland Islanders will oversee them, no matter what, if any, benevolent peaceful intentions towards them are proposed.
Dik Sawle, elected Member of the Legislative Assembly of the Falklands, said that the announcement was very muddled with errors made in both the date of the British-Argentine agreement of 1999 and the stated number of flights made by LAN to the Falklands.
MLA Sawle said that until they could have a clearer understanding about the President's real intentions there was little the Government could respond to, but added that if it was Cristina Fernandez intention to re-open negotiations on the 1999 agreement, then the Falkland Islands would look forward to discussing the principles agreed at that meeting which have since been abandoned by Argentina.
This would include re-opening discussions on regional fisheries management, co-operation on hydrocarbons development, plus removal of the ban on charter flights imposed by Argentina and dropping the use of the name "Puerto Argentino" for Stanley.
In addition the President could show a real intention of repealing recent laws banning fishing companies from holding interests in both the Falklands and Argentina and requiring its neighbors to ban Falkland flagged vessels from docking in South American ports.
Mike Summers, another Member of the Legislative Assembly, said that Falkland Islanders were generally skeptical about the announcement and there would be little, if any, support for direct flights to and from Buenos Aires on an Argentine airline. "There are too many issues going on at the moment, and people see it as another attempt to entrap the population into something against their own interests..."
During the seventies following a 1971 Communications Agreement between Britain and Argentina, and until the Argentine invasion of the Islands in 1982, Falkland Islanders only air link in and out of the Islands was via scheduled flights to Argentina operated by the Argentine Air Force. At that time, locals were required to enter and exit Argentina using specially designed identity documents instead of their British passports.
Even at times of more rational Governments in Argentina Summers said, there is deep distrust of any intent to trap the population into being reliant on Argentina for their access in and out of the Islands.
From the British side, a Foreign Office spokesman has stated that any discussion on flights is a matter for the Falkland Island Government to decide, but added that if President Cristina Fernandez wished to increase air links between the Falklands and the South American continent she should consider lifting the ban on charter flights and other commercial routes through Argentine air space.
By Janet Robertson - SeAledPR - Stanley