Recalling the phrase "Argentines are crooks from the first to the last"
Monday, March 19th 2012 - 06:54 UTC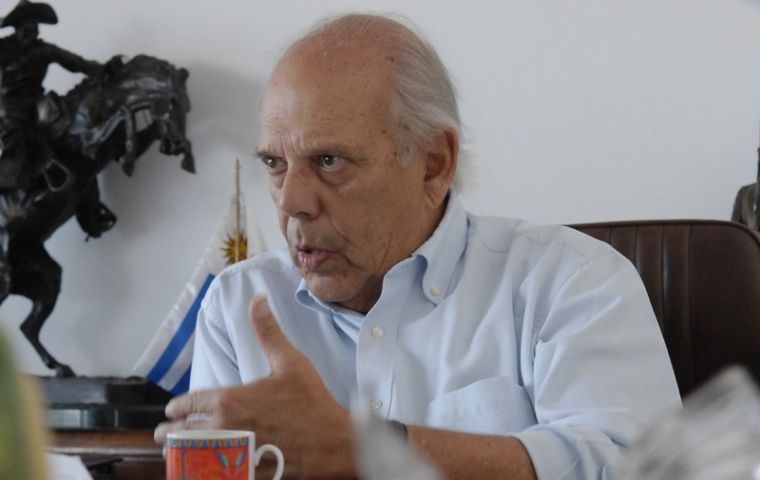 "You were right, or at least that is what Argentines I come across in the street tell me", said former Uruguayan president Jorge Batlle. In effect Batlle became world famous in 2002 for his phrase describing the River Plate neighbours: "Argentines are a bunch of crooks, from the first to the last, from A to Z".
Ten years later in an interview with a local television channel Batlle said that just a week ago he was in Buenos Aires and "I was stopped by a young fellow who asked if I had been president of Uruguay and told me: you know? You were right".
"In a shopping mall in Montevideo I went through a similar experience, an Argentine gentleman approached me and also congratulated me", said the Uruguayan leader.
The unforgettable statement was said by the president Batlle when following an interview the camera was left on and he was taped making statements "off the record".
"Look here Argentines are a bunch of crooks from the first to the last, from A to Z", said the Uruguayan president ten years ago.
But Argentines were disappointed and Batlle had to travel to Buenos Aires and publicly apologize (tears included) next to then Argentine caretaker president Eduardo Duhalde.
"I did so because presidents are not supposed to say those things and because my mother was Argentine", said Batlle. Besides, "I was not a simple citizen, I was the president of Uruguay and the three million Uruguayans could suffer enormously with my words", he added.
Anyhow "it was hard to apologize but I did it, and that's it", concluded the former president.
Nevertheless at the time he said those words public opinion polls in Buenos Aires overwhelmingly supported Batlle's statements.