Argentina announced heavy fine for mobile phone provider that left 16 million clients out of service
Wednesday, April 4th 2012 - 04:12 UTC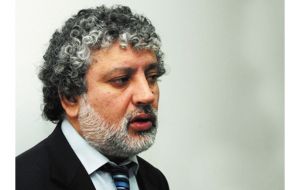 The Argentine government said on Tuesday it will sanction heavily the local unit of Spanish Telecommunications Company Telefonica SA mobile phone service provider after a service disruption left more than 16 million clients without phone and data service for several hours.

The head of Argentina's federal communications regulator, Ceferino Namuncura, said his agency will "impose the highest fines" and require Telefonica to compensate consumers for the service outage on Monday.

"It worries us a lot at a time when companies, especially Movistar [Telefonica], are very profitable and which we understand should be offering excellent service. That profitability allows them to make the investments that the government and consumers demand" he said in a televised press conference.

"And this is not over with a fine," he added. "Federal Planning minister Julio De Vido has asked us to look into the matter in detail in order to determine how they are going to compensate consumers," Namuncurá said, as we warned that they would take "any measures necessary" in order to protect consumers.

He also clarified that whatever sanction the Government applies, will be unrelated to any compensation that the company offers costumers.

Argentine Communications Secretary Lisandro Salas also weighted in on the situation, saying that what "concerned them the most was the company's regrettable attitude towards costumers."

"The company did not protect them, since it failed to communicate what was happening."

Telefonica Argentina, which provides mobile phone service under the brand Movistar, said in a statement that it will reimburse its clients and offer free text messaging during the four-day Easter weekend.

Telefonica's nationwide wireless network was down for hours Monday morning and early afternoon, which disconcerted many users in a country that boasts one of the highest rates of mobile-phone ownership in the world.

"In this case it was a software problem" Namuncura said.

"Movistar continues to study the causes of this extraordinary incident," the company said. Argentina has about 55 million wireless subscribers in a country of almost 41 million people. Telefonica ranked No. 3 in the country's wireless industry at the end of last year, with 16.8 million users.