Tuesday,
April
24th
2012
- 00:58 UTC
Chavez blasts "psychological rumours warfare" and says on Thursday he returns to Venezuela
A healthy-sounding President Hugo Chávez called Venezuelan state television from Cuba on Monday to dispel rumours fanned by a nine-day silence that he had died undergoing cancer treatment at a hospital in Havana.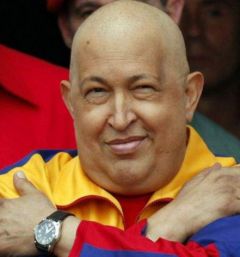 "It seems we will have to become accustomed to live with these rumours, because it is part of the laboratories of psychological war, of dirty war" the 57-year-old leader said in the telephone call.
Since leaving for Cuba on April 14 to undergo radiation treatment for an undisclosed cancer, Chávez had only addressed Venezuelans by short messages on Twitter to cheer supporters and hail the advances of his socialist "revolution."
In the absence of photos or video footage from the tightly controlled island, Chávez' unusually long silence had stirred speculation about his health and doubts over his condition as he campaigns for re-election in an Oct. 7 vote.
Chávez said the cancer therapy was "hard" and he needed to rest, but that he was recovering and planned to return to Caracas on Thursday - although he would need another radiation session.
"Some people would like to see me leave here sprinting ... not yet, let me recover. I have to rest and look after my diet, the treatment and the hours I keep," Chávez said. "These rumours sometimes are damaging."
Opposition candidate Henrique Capriles has complained that Chávez was running Venezuela remotely by Twitter from a Havana hospital bed. One of the president's first acts when he returns will be to sign a new labour law that takes effect on May first.
Chávez's political ally and president of the National Assembly legislature Diosdado Cabello accused the opposition of having a "morbid obsession" with the former soldier's health.
"The truth is that these embittered people don't learn. They've been saying for days that the Comandante died," he said.