S&P downgrades Repsol's rating; sees no compensation payment in near-term
Tuesday, April 24th 2012 - 06:20 UTC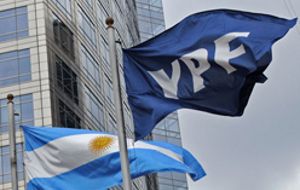 Rating Agency S&P announced on Thursday it was downgrading Spain-based energy company Repsol-YPF after Argentina's government announced the expropriation of 51% of its shares. The rating was lowered from BBB to BBB (minus), the agency said in a statement.

"Repsol's credit metrics will deteriorate materially as YPF accounted for a significant share of group production and cash flow," the rating agency alerted.

S&P also gave the company a gloomy perspective. "The outlook is negative, reflecting the potential for a further downgrade if corrective actions to reduce debt do not materialize in 2012. "

S&P also put in check the compensation the Argentine government is willing to pay for the company. "While compensation discussions will be held, we understand any compensation will be determined by a local committee in Argentina, although Repsol has already initiated international arbitration.

"Our assumptions do not include any near-term repayment of the loan to the Petersen group, as repayment was dependent on cash dividends the Petersen group was to receive from YPF and which are now uncertain."

YPF represents over 50% of Repsol' total production of hydrocarbons and 40% of its proven reserves and benefits in 2011 totalled 1.6 billion dollars which represent 25% of the group's total.

YPF daily production last year was 495.000 bpd and the proven reserves, 1.013 billion equivalent barrels, of which 58% crude and condensates and the rest, 42%, natural gas.

Repsol in 1999 purchased from the Argentine state, 14.9% of YPF and paid 2 billion dollars. Later the Spanish company organized an OPA for the rest of the shares, 83.24%, and took full control of YPF in an operation totalling 13.438 billion dollars.