Chilean students take to the streets in support of education reform
Thursday, April 26th 2012 - 05:48 UTC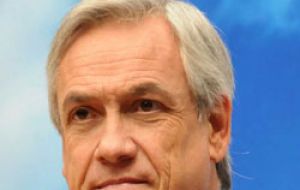 Tens of thousands of students took to the streets in Chile in support of education reform. Organisers said at least 50.000 marched in the capital Santiago on Wednesday, with police saying 25.000 attended.

Chilean students have held a series of mass protests during the last eighteen months, demanding free public education for all.

Student leaders have said plans expected from conservative President Sebastian Piñera to direct extra money to education are not sufficient.

The protest in Santiago passed off largely peacefully, but some students did clash with police later in the day after a police booth was set on fire. Smaller protests were also held in other cities, including Valparaiso and Concepcion.

"We will carry on making history... We students will not give up the fight to make education a public right" said student leader Gabriel Boric quoted by news agencies.

Also on Wednesday, President Piñera appeared on national television to outline tax reforms expected to raise around 700m dollars, much of which will be funnelled to the country's education system.

"Thanks to these measures no young Chilean will ever again be excluded from higher education because of a lack of resources... This is something that fills me with pride" said Piñera.

The government has also proposed measures to reduce the interest rate on student loans from 6% to 2%.

While welcoming that move, Mr Boric said it did not go far enough for the protesters. "Education is still not being thought of as a right, but as a consumer good".

Chile's education system is one of the most privatised in the world. Nearly 40% of all education spending comes not from the state but from households in the form of tuition fees, according to the Organisation for Economic Co-operation and Development (OECD).

The students' protests which began as small isolated marches quickly and spontaneously ballooned to massive demonstrations surprising the whole political system: the Conservatives currently ruling and the Socialist coalition that held office for twenty years since the return of democracy in 1990.

Public opinion polls shows that support for students' protests and education reform demands, remain solid.