Argentine Securities Commission puts more pressure on Falklands' oil industry
Friday, April 27th 2012 - 09:33 UTC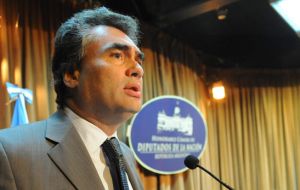 Argentina's National Securities Commission, CNV, announced on Thursday that it will inform UK regulatory authorities on the legal actions to be undertaken by the Argentine state against oil companies "illegally operating in the Malvinas Islands".

CNV added in a release that it will inform of these actions to public investors and the International Organization of Securities Commission, IOSCO.

The announcement follows a warning from the Argentine Foreign Affairs ministry released Wednesday saying it will press charges against the oil companies operating in the South Atlantic unless they justify their actions before next Wednesday May 2.

Likewise it recalls that in 2001 CNV signed a collaboration agreement with the UK Financial Services Authority and the British Treasury with the purpose of "protecting investments and contributing to the integrity of securities markets".

To that effect CNV said it will inform its peers that the Argentine Foreign Affairs ministry has sent letters to the London and New York Stock Exchanges requesting that those oil companies report to the market and investors of the legal risks involved is they go ahead with their operations.

CNV will also make public that through the Energy Secretary it informed the oil companies involved that the "operations and exploration works close to the Malvinas Islands are illegitimate and clandestine for they are been undertaken in "an area under Argentine sovereignty and outside the corresponding legal framework and specific regulations".

"The legitimate sovereignty claim of our country over the Malvinas Islands constitutes relevant information for investors in capitals market, who have the right to have access to true and sufficient information regarding the risks inherent to the development of economic activities in territories involved in a diplomatic conflict", said Alejandro Vanoli, CNV president.

According to the Argentine releases the companies currently involved in Falklands oil activities, and which have been notified of the risks are Rockhopper Exploration Plc.; Desire Petroleum Plc.; Argos Resources Ltd.; Falkland Oil and Gas Ltd. and Borders and Southern Petroleum Plc.

Earlier this week it was revealed by the London media that the British government, in a move designed to ease concern among the investment community about the Argentine legal threats, had written support letters to some 15 banks and oil exploration companies operating in the region.

In the letter, the Foreign Office says it is "deeply sceptical" that Argentina would be able to enforce "any penalties" in courts outside its own borders and adds that the government of the Falklands "is entitled to develop" oil and fishing industries in its own waters "without interference from Argentina."

"The British Government has no doubt about our sovereignty over the Falkland Islands and surrounding maritime areas," it adds.