Cristina Fernandez enacts YPF nationalization and oil and gas self-sufficiency law
Saturday, May 5th 2012 - 06:41 UTC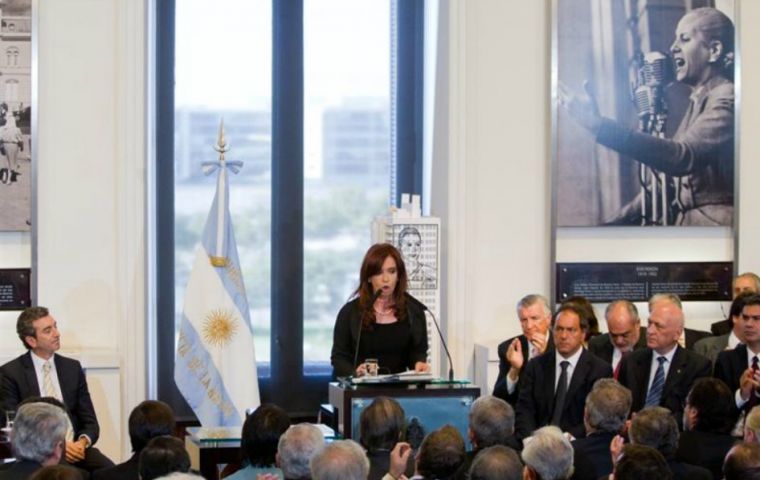 Argentine President Cristina Fernández enacted the YPF nationalization law, which was approved by the Lower House on Thursday. During a nation-wide televised speech from Government House, the Head of State also introduced the company's new CEO, oil engineer Miguel Galuccio.

Escorted by members of government, governors, businesspeople, union leaders and political leaders, and in the midst of cheers, applause and singing, the Argentine president signed the expropriation bill which also declares of public interest the country's hydrocarbons self-sufficiency.

"This is a special day: one I never thought would live as President. History has been very generous with me. A few moments ago I signed the enacting of the law, which was approved by a very ample margin at Congress. I want to thank opposition lawmakers who supported this project as a whole, which aims to recover our oil" a visibly moved Fernández said.

"The law was approved by the widest margin since 2003. I also want to particularly thank the Victory Front and our lawmakers for supporting this law. We need, as I said yesterday, a modern and competitive YPF, aligned with the country's interests and that guarantees self-sufficiency of oil for Argentina," she continued.

The President also stressed the fact that the nationalization of YPF will need an important commitment of all oil and gas companies. Those are basic resources that help create competitivity to all Argentine production. Oil goes through all sectors. We must be very efficient in the Management of the company, so we can prove that the state can administrate correctly..."

Following the seizure YPF shares are split among the national government (26.03%); the Petersen group belonging to the Eskenazy family (very close to the Kirchners) (25.46%); the Argentine oil provinces (24.995); Repsol (6.43%) and the remaining 17% which will continue to be traded in the Buenos Aires and New York stock exchanges.