New elections in Greece; Hollande flies to meet with Merkel in Berlin
Tuesday, May 15th 2012 - 15:40 UTC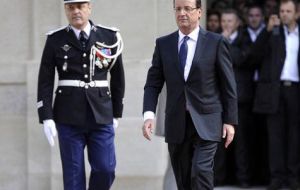 Attempts to form a government in Greece collapsed on Tuesday rattling financial markets at the prospect of extremist parties opposed to the terms of an EU bailout could sweep to victory and push the Euro zone crisis into a dangerous new phase.

The turmoil in Athens sent waves around other troubled members of the 17-nation European single currency area. The Euro slipped below 1.28 US dollars while Spanish and Italian bond yields rose above the danger level of 6% as investors scurried for shelter in safe haven German bonds.

The tremors from Greece, compounding worries about Spain's debt-laden banking system, ended any honeymoon for new French President Francois Hollande, thrusting the growing risks to the Euro zone to the top of the agenda for his first meeting with German Chancellor Angela Merkel hours after he took office.

In his inaugural address, the Socialist president called for a European pact to revive growth and temper German-driven austerity measures, seeking to change the direction of euro zone economic policy.

"I will propose to our partners a pact that will tie the necessary reduction of our public debt to the indispensable stimulation of our economies," Hollande declared, saying Europe needed "projects, solidarity and growth".

In Athens, a spokesman for President Karolos Papoulias said his efforts to broker a compromise on a cabinet of technocrats to steer the country away from bankruptcy had failed, nine days after an inconclusive general election. A caretaker government will now be formed pending a new vote probably in mid-June.

"For God's sake, let's move towards something better and not something worse," Socialist leader Evangelos Venizelos told reporters after party leaders met the head of state.

Euro zone Finance ministers dismissed talk of Greece leaving the single currency area as "propaganda and nonsense" on Monday. But with hostility to EU/IMF-imposed austerity rising in Greece, speculation about a possible exit is rattling financial markets and won't go away.