Almost 19 million urban Brazilians live with no access to drinking water of sewage
Friday, May 25th 2012 - 21:40 UTC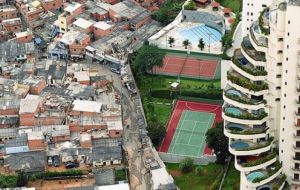 Almost 19 million Brazilians live in precarious housing with no running water, sewage or any basic public services, according to a report on urban infrastructure by the Brazilian Geography and Statistics Institute, IBGE.

The lack of proper channelling and disposal for sewage is one of the main shortfalls, with all the sanitary problems it represents, and is extended not only to the bottom 10% of the population but also to many middle and low class neighbourhoods

The IBGE report is based on data from the 2010 census but only covers urban areas and those that are considered "with a regulated display" which means thousands of favelas (slums) extended all over the country with millions of Brazilians, have been excluded. IBGE also admits that in the favelas the living conditions are even worse.

The deficiencies are really alarming points out IBGE since in cities such as Belen the capital of the state of Para, less than half of the surveyed homes have access to sewage.

Another issue which emerged in the report was the scarce paved and surfaced roads in urban areas. This means that 20% of housing only has access to dirt or stone roads with complete absence of asphalt.

The only public service which received top marks was electricity and street illumination, present in 96.3% of urban neighbourhoods.

Another serious albeit curious deficiency recorded by the paper is the lack of green open spaces in urban areas, which is surprising since Brazil is a tropical country with exuberant forests. But one third of houses surveyed don't even have a tree in the surrounding area.

An outstanding case in Manaos, capital of the state of Manaos and in the middle of the rain-forest belt in which only 25.1% of homes don't have a tree in their plot or in the surroundings, concluded IBGE.