Saturday,
June
2nd
2012
- 04:16 UTC
Brazil expands 0.2% in first quarter; stimuli measures still have to impact, says Mantega
Brazil's economy barely expanded in the first quarter as frustrated business leaders cut back on investments, casting new doubt on the health of emerging markets.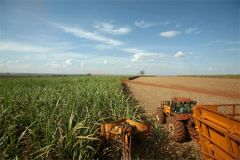 The economy grew just 0.2% compared to the final three months of 2011, less than forecasted. The third straight quarter of weakness in the world's sixth-largest economy prompted new calls for President Dilma Rousseff to enact much bolder reforms that could reclaim Brazil's mantle as a favourite of global investors.
A combination of a clogged transport system, an overvalued currency and an expensive and under-qualified labour force have raised the costs of doing business and have caused companies to delay or cancel expansion plans.
The data released by the government on Friday showed that, despite numerous stimulus packages enacted by Rousseff since late last year, investment shrank in the first quarter. Some business leaders say that much more dramatic steps - such as an across-the-board simplification of Brazil's Byzantine tax code - are necessary to unlock a new era of fast growth.
The worst-performing sector in the first quarter was agriculture, which has been damaged by a severe drought in southern Brazil. While industry did better than some expected, separate and more up-to-date data released on Friday suggested a meaningful recovery in that sector also remains far off.
Taken together, the data seem likely to spark more interest rate cuts by Brazil's central bank and cause another wave of downward revisions to the economic outlook. Economists had already expected growth of just below 3% this year - in line with growth of 2.7% in 2011, and a far cry from the booming 7.5% expansion in 2010.
Brazil's problems are to some extent a reflection of problems abroad, including a slowdown in China, its biggest trading partner, and a loss of confidence in the Euro zone. Rousseff has blamed a monetary "tsunami" of cheap money in Europe and the United States for making Brazil's currency over-valued and causing its exports to become less competitive.
Yet other Latin American countries have generally held up better, with the IMF forecasting the region as a whole will grow 3.7% this year. That suggests that more local factors are playing a big role in Brazil's woes.
Still, Finance Minister Guido Mantega said on Friday that the economy should accelerate in the second half of this year as interest rate cuts and measures to stimulate credit take effect. He indicated that further tax incentives for targeted sectors, similar to those Rousseff has enacted already this year, were likely to come.
Central bank chief Alexandre Tombini also issued a statement saying the economy should accelerate throughout the year as domestic demand supports activity.
Private economists also expect some improvement, noting that unemployment remains near all-time lows and retail sales have been robust. Household consumption expanded 1 percent in the first quarter from the previous quarter.
"Consumption among families is compatible with greater growth than what we're seeing right now," Mantega said.
A 16% depreciation of the Real since March has also made the currency less overvalued, which could give some relief to struggling industries. But a deeper look at Friday's data shows several problems, particularly the chill in investment that could limit Brazil's prospects going forward.
Spending on capital goods declined 1.8% compared with the previous quarter, the IBGE statistics agency said. Investment overall fell to 18.7% of GDP compared with 19.5% in the first quarter in 2011.
The farm sector contracted 7.3% compared with the previous quarter after dry weather over the past season dragged down output from Brazil's two most important crops - soybeans and sugar cane. But early signs such as fertilizer sales indicate that soy, in particular, should rebound toward the end of the year.