China attempting to beat deepest manned submersible dive record (7.000 metres)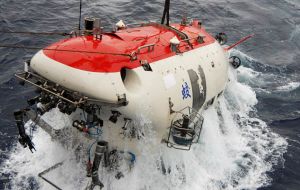 An oceanographic ship carrying China's manned deep-sea submersible, Jiaolong, left the eastern port city of Jiangyin on June 3 for the Mariana Trench to attempt the world's deepest manned submersible dive.

The submersible, named after a mythical sea dragon, will dive 7,000 meters below the surface of the Pacific Ocean between mid-June and early July, according to a plan for the expedition.

Oceanographers Ye Cong, Fu Wentao and Tang Jialing will pilot the Jiaolong and be supported by nearly 100 scientists, who will test the submersible's functionality, conduct research and take seabed samples during the dive.

The Haiyang-6, a Chinese research vessel, carried out surveys in the Mariana Trench earlier this year to find the best environment for the Jiaolong, the world's first manned submersible designed to reach depths of 7,000 meters below sea level.

It completed 17 dives in the South China Sea between May and July 2010, with the deepest reaching 3,759 meters. This dive made China the fifth country, following the United States, France, Russia and Japan, to send a manned submersible to a depth of 3,500 meters below sea level.

The submersible succeeded in diving 5.188 meters below sea level in the Pacific Ocean last summer, enabling China to conduct scientific surveys in 70% of the world's seabed areas.

"The challenge for this dive is that the submersible must bear extremely high pressure, much greater than the pressure it faced at a depth of 5,000 meters," said Liu Xincheng, an official with China's Oceanic Administration (SOA).

"This will be the first 7,000-meter dive in human history. There is not much previous experience for us to learn from," Liu said.

Submersibles of Russia and Japan have reached to about 6,000 meters below the sea level.

Xu Qinan, chief designer of the Jiaolong, said scientists have improved the submersible's hydraulic pressure system to endure the high pressure and low temperatures that are found at 7,000 meters below sea level.

GPS equipment has been installed on Jiaolong. Its accompanying ship, Xiangyanghong 09, has received upgrades that will allow scientists aboard to detect Jiaolong's location.

"Jiaolong's expedition is aimed at benefiting all of mankind. The deep sea has amazing resources waiting to be discovered, such as hydrothermal sulphide and manganese nodules," said head operator Ye Cong.

Tang Jialing, another submersible operator, said he and the other oceanographers have undergone extensive physical training and simulations in preparation for the dive.

China will promote the development of deep-sea technology and equipment, including the development of research ships, unmanned submersibles and their accompanying craft, according to Liu Cigui, head of the SOA.

The US, Russia, Japan and France currently lead the world in the development of deep sea exploration technology, each possessing their own submersibles and support bases.