Tuesday,
July
3rd
2012
- 02:50 UTC
Mandela's eldest daughter South Africa's ambassador to Buenos Aires
Argentina has handed Nelson Mandela's eldest daughter, Zenani Mandela-Dlamini, credentials as South Africa's ambassador to Buenos Aires, the foreign ministry said on Monday.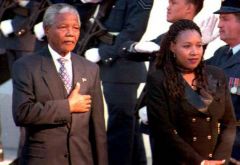 "The Argentine government has given diplomatic credentials to Zenani Mandela-Dlamini, as new ambassador of the Republic of South Africa to Argentina" a ministry statement said.
Mandela-Dlamini, 53, is a businesswoman and the first of anti-apartheid hero Mandela's surviving children to go into public life. She is a daughter of Mandela, 93, and his second wife Winnie Mandela.
She is the former wife of Prince Thumbumuzi Dlamini from Swaziland and keeps his last name and royal title, says the Argentine Foreign ministry release. Zenani Dlamini acted as First Lady when her father Nelson Mandela was president of South Africa.
"In recent years bilateral links with South Africa have increased in all fields, mainly trade, human rights, sports, culture, science and technology and the nuclear and space sectors helping to strengthen South-South cooperation".
Bilateral trade between South Africa and Argentina is worth about 1.3 billion dollars.