Monday,
July
9th
2012
- 06:09 UTC
China inflation down to a 29-month-low in June: 2.2%
China's consumer-price inflation eased to a 29-month low in June, giving Premier Wen Jiabao more room to relax economic policies after the second interest-rate cut in a month. The consumer price index rose 2.2% percent from a year earlier, the National Bureau of Statistics said in Beijing. Producer prices dropped 2.1%.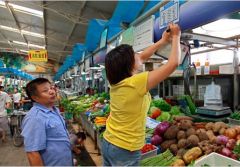 The report marks a fifth month of price gains below Wen's 4% target and may encourage the government to take further steps to aid growth that probably decelerated for a sixth quarter. Expansion in the three months through June probably slowed to the weakest in three years, putting Wen at risk of missing his 7.5% target for the year.
The interest-rate cuts, including one announced July 5, were the first since 2008 and followed three reductions in banks' reserve requirements starting in November.
The Shanghai Composite Index slipped 0.1% last week, capping the third week of losses, on concern slowing global growth will hurt corporate earnings.
The economy may have expanded 7.7% in the second quarter, down from 8.1% in the prior three months, analysts estimated ahead of government data due July 13.
The latest report showed the CPI in June fell 0.6% from May, the biggest drop in two years, while producer prices declined 0.7% from the previous month.
Food prices, which account for about a third of the consumer-price basket, rose 3.8% from a year earlier and fell 1.6% from May. The inflation slowdown reflects in part a decline in commodity prices. The S&P GSCI Spot Index of 24 raw materials has dropped about 11% in the past year.
The last time consumer-price increases slowed to this level in 2008, the People's Bank of China was in the midst of five lending-rate cuts totalling 216 basis points.
Last week's action by the central bank reduced the one-year lending rate by 31 basis points to 6% and one-year deposit rate by 25 basis points to 3%. The nation moved in tandem with the European Central Bank and the Bank of England, which also boosted monetary stimulus to support growth.
The PBOC also allowed banks to offer loans at as much as 30 percent less than the benchmark rate, the second widening of the range in a month.