Wednesday,
July
11th
2012
- 03:03 UTC
Roubini says 'perfect storm' is closer; forecasts Finland will leave the Euro before Greece
Nouriel Roubini, or "Mr. Doom" who predicted earlier this year that a "perfect storm" scenario would play out in the global economy, has now said that his prediction is coming true, pointing to slow growth currently hitting the United States, Europe and China.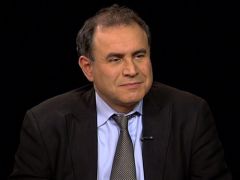 The "perfect storm" scenario spoken about by Roubini in May highlighted four elements that if coming together could cripple the world economy. They were stalled growth in the United States, European debt spiralling out of control, a huge slowdown in emerging markets such as China, and a military conflict in Iran. He predicted at that time that this scenario would play out and hit the global economy as early as 2013.
Data released Monday showed that China's economy is grinding to a halt much quicker than most analysts predicted. Added to this last week's timid jobs growth figures for the United States, Roubini now feels justified on his prediction.
And Roubini has said that global policy makers are "running out of rabbits to pull out of the hat."
"Levitational force of policy easing can only temporarily lift asset prices as gravitational forces of weaker fundamentals dominate over time," Roubini has announced.
So far the European Central Bank (ECB), the Bank of England, and the People's Bank of China, has found it difficult to find a clear strategy to counter the stagnant growth across major markets, and global stock markets are beginning to get increasingly concerned. While the 2008 crisis was addressed with a combined action from central banks, those decisions have not had the desired effect.
Referring to the Euro zone, Roubini in a long interview with Bloomberg TV said it was most feasible that Finland abandons the Euro before Greece.
He described the recent EU summit as a failure because rates on Spanish and Italian bonds remain too high and anticipated further problems with Euro debts. "Markets were expecting something more than mutualisation of the debt", said Roubini.
The New York university professor goes further and warns that it is not only Angela Merkel and Germany that are against mutualisation of Euro-zone debt, it's also Finland, Austria, Holland that are in the same line of thinking.
Roubini anticipates that in 2013 "we'll see the exit of Greece from the Euro", but it must not be discarded earlier exits in the heart of Europe, "such is the case of Finland", which could be abandoning the Euro zone before Greece".