YPF and PDVSA advance in the energy strategic alliance; next meeting in Caracas
Saturday, August 4th 2012 - 05:00 UTC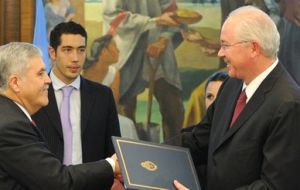 Argentina and Venezuela gave their first step in the creation of an energy strategic alliance between oil companies YPF and PDVSA, after the agreement signed by President Cristina Fernández and her Venezuelan counterpart, Hugo Chávez, in Brasilia last Tuesday.

On Friday Planning Minister Julio De Vido and Oil and Energy counterpart and president of PDVSA, Rafael Ramírez Carreño, headed the encounter that will have a new episode in 30 days, when the Argentine envoy travels to the Caribbean country to work on the details.

Cabinet Chief Juan Manuel Abal Medina and Economy Deputy-Minister Axel Kicillof were also part of the meeting held at the Federal Planning Ministry.

De Vido said that the two ministries' teams analyzed the different tools from the financial sector to support projects by issuing bonds and other instruments.

"We are considering an additional daily refining of 30.000 barrels supplied by Venezuela, and PDVSA is assessing participating in the Argentine distillation and petrochemicals industries, now that YPF is 51% nationalized".

PDVSA has also invited YPF to participate in the development of the Pedro Anzoategui field with a daily production of 130.000 barrels, planned to be expanded to 160.000 barrels, in the area known as the Orinoco belt of heavy crude.

A second offer is the development of the Ayacucho VI block which is estimated to have a daily production of 200.000 barrels of oil for the next 40 years. Other mature wells have also been offered to YPF to improve extraction.

Likewise PDVSA said it is interested in developing non conventional hydrocarbons fields in Argentina and in expanding conventional production areas.

"We are convinced Argentina still has abundant conventional reserves but needs to invest in exploration and recovery of its mature fields", said Ramirez Carreño.

PDVSA said it has a rich experience in the development and use of financial mechanisms that have enabled Venezuela to support its won investment plan valued at approximately 243 billion dollars until 2018.

The new Mercosur strategic full member has proven oil reserves of 297 billion barrels and the national corporation PDVSA has a daily production of 3 million barrels with a horizon of 4 million bpd in 2014 and six million bpd by 2019.

"The sovereign decision from Argentina taking control of its national oil company opens endless possibilities to further advance in our energy cooperation, since now the two governments have the capacity and necessary instruments to keep advancing", said Ramirez Carreño.

Even when PDVSA is completely government owned the Venezuelan constitution allows mixed companies with the private sector for the development of the country's national resources.