Brazilian federal staff strike extends affecting airports, ports and foreign trade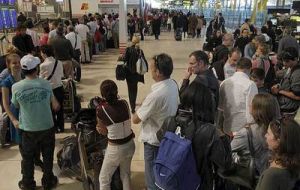 The Brazilian economy is slowing down and civil servants are threatening to intensify the several weeks strike to protest government policy that they allege is appealing to savings in salaries and working conditions to address the situation.

"Workers are on the move and will camp outside ministries in Brasilia to find a solution to this problem of draining our salaries" said Ricardo Hola, spokesperson from the revenue offices national union.

Strikes that took off last May and are extending to over twenty ministries and federal offices, including the Federal Police creating long queues and bottlenecks at airports, highways and ports. Workers are demanding salary increases ranging from 24% to 50% according to the different offices.

The administration of President Dilma Rousseff has offered increases below the unions' demands alleging that the impact of the global economic crisis. It has also gone to court demanding government staff return to their jobs.

"This week is decisive for the future of the strike. Staff want to return to work and are only waiting for the government to make a decent proposal", said Hola.

But President Rousseff faces a dilemma: yielding to unions' pressure and at the same time facing a contracting GDP originally forecasted to expand 3% or even less, compared to an original 4.5%.

The Federal Police strike and the Highways patrol significantly slowed down activities at the Guarulhos airport in Sao Paulo, the most important of the country, as well as at the air terminals of Rio do Janeiro, Porto Alegre, Fortaleza, Belo Horizonte and Manaos.

Federal Police are in charge of checking passports and federal staff also includes Customs comptrollers causing serious inconveniences for the dispatching of exports and imports.

In July at least 4.5 billion Reais (2.25bn dollars) of merchandise was unable to be introduced into Brazil, according to the Foreign Trade Association of Brazil, AEB.

"We have at least 150 vessels waiting in port terminals generating a daily cost of 40.000 dollars for each of them" said Jose Augusto de Castro, AEB president.

According to Brazil's Planning ministry the federal payroll (which depends from the Executive branch) total 580.000, but the unions allege that 350.000 of them have adhered to the strike measures. Government says the number is far less.