US government sales soared to 66.3bn dollars in 2011; Saudis main buyers
Wednesday, August 29th 2012 - 03:07 UTC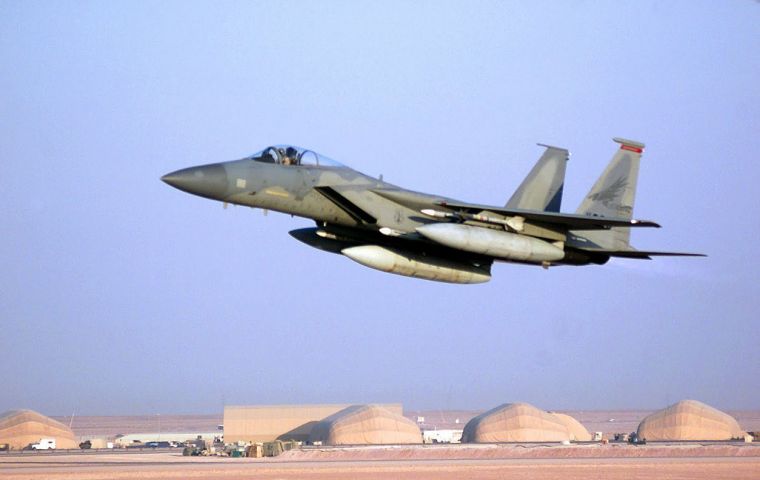 US government sale of weapons soared by over three times in just one year - from 21.4 billion dollars in 2010 to 66.3 billion in 2011, the largest for a single year in the history of the US arms export program, according to a report by the US Congress Research Service.

Global weapons sales agreements were pegged at 85.3 billion dollars, a substantial increase of nearly 92% from 45.2 billion in 2010.

In terms of actual deliveries in 2011, the United States ranked first in the value of all arms deliveries worldwide, making nearly 16.2 billion in such deliveries. This is the eighth year in a row that the United States has led in global arms deliveries, the CRS report said.

Russia ranked a distant second to US in worldwide arms deliveries in 2011, making 8.7 billion in such deliveries. The UK ranked third in 2011, making 3 billion in such deliveries. These top three suppliers of arms in 2011 collectively delivered nearly 27.9 billion, 62.9% of all arms delivered worldwide by all suppliers in that year, the report said.

The CRS brings out an annual report on worldwide arms sales agreements and deliveries for briefing members of the US Congress. It is considered the most authentic report on government to government arms transfers.

Arms sales by private companies and traders are not covered by the report. The US is the only country in the world which licenses commercial entities to sell weapons abroad. The data of such sales, collected by US Customs is classified.

Among the leading buyers is Saudi Arabia, a close ally of the US that has purchased an enormous arsenal leading to this increase in 2011, the report says. Overall, the global economic crisis appears to have slowed down arms trade, leading to increased competition among the arms vendors. Many traditional arms exporters like Russia have fallen behind. But the US has managed to not only stay ahead but has increased its sales.

Developing countries are the main buyers of arms and weapon systems, according to the break-up of recipients provided in the CRS report. They entered into agreements to buy weapons worth 71.5 billion in 2011, a huge hike over the 32.7 billion in 2010. In 2011, the value of all arms deliveries to developing nations (28 billion) was an increase over the value of 2010 deliveries (26.1 billion) and the highest delivery total since 2004, the report said.

Saudi Arabia was the leading recipient of arms deliveries in 2011, receiving 2.8 billion worth of arms, followed by India with 2.7 billion and Pakistan with 1.8 billion dollars.

In fact, Saudi Arabia was the leading developing world arms purchaser from 2004 to 2011, making arms transfer agreements totalling 75.7 billion dollars during these years. India followed at a distant second, entering into agreements worth 46.6 billion, followed by UAE with 20.3 billion, Egypt 14.3 billion and Pakistan 13.2 billion.

The arms build up in the Gulf region has been sparked off by the Arab Spring and the continued Western tension over Iran's alleged nuclear program. From 2008 to 2011, the US entered into 92 billion worth of arms agreements in the Mid-East region, that is, about 78.9% of all arms sales in the region. Russia accounted for 5.2% of the region's agreements equivalent to 6 billion dollars.

A 33.4 billion dollars agreement with Riyadh includes 84 F-15 combat aircraft; the refurbishing of another 70, plus three types of helicopters: 70 Apaches; 72 Black Hawks and 36 Little Birds.