Wednesday,
September
5th
2012
- 00:35 UTC
Tourist arrivals in Chile keep growing but concentrated on Argentina and Brazil
International arrivals in Chile in the first half of the year showed a significant growth of 15% compared to the same period a year before, having totalled 1.850.048 tourists, according to the Chilean Tourism Barometer compiled by Fedetur, the Federation of Tourism companies from Chile.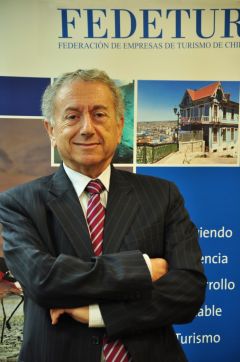 The stats point out that the second quarter increase was similar to that of the first quarter with an average increase in April-June of 16.5%, compared to 2011. The best month was April (up 21%) with 267.203 arriving foreign tourists and positive variations for all the originating markets.
Arrivals to Chile from Colombia, Brazil and Argentina increased 30%, 27% and 26% respectively in the first half of 2012. From Europe arrivals were up 5% and from the US they remained almost at the same level. But Argentina remains as the main originating market for tourist arrivals in Chile with a 26% increase in the first half of 2012 with almost 780.000 tourists.
"The positive balance can be explained mainly because of the strong arrivals growth from Brazil and Argentina, countries where the impact of the European financial crisis have yet to be felt strongly and also because of the intense promotional campaigns launched by the Chilean tourism office and other private efforts in those markets", said Eugenio Yunis, Fedetur Vice-president.
Yuris points out that even when the Barometer figures are positive and growth is most encouraging, it is an effort concentrated mainly in the Argentine and Brazilian markets, while arrivals from Europe and the US remain "a bit stalled".
"This concentration is risky and we must double efforts with greater impact on those long distance markets and particularly in the high income brackets of those markets, which don't seem to be suffering from the brunt of the crisis", concluded Yuris.