In spite of God and Cristina, several Argentine governors teaming up as an option
Monday, September 10th 2012 - 05:29 UTC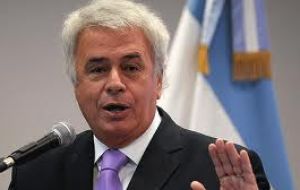 Cordoba's governor picked up the glove and replied to Argentine President Cristina Fernandez statements on God and fear arguing that God cannot be feared; I learned not to fear God or any other kind of governing body, however powerful they are".
Last week the Argentine president scolded her cabinet over some public works suspended by a judge, about which she had not been informed and told her ministers that "you only have to fear God, and me a little bit".
Cordoba governor Jose Manuel de la Sota although belonging to the same Peronist coalition supporting President Cristina Fernandez had increasingly taken distance, following disagreements on the distribution of federal and social security funds.
Together with Santa Fe and the City of Buenos Aires they have appealed before the Supreme Court demanding the administration of President Cristina Fernandez liberates those funds. Cordoba, Santa Fe and the city of Buenos Aires are the largest electoral circuits of Argentina after the province of Buenos Aires.
De la Sota who is consolidating himself as a serious opposition candidate for presidential elections in 2015 in earlier statements said that "although we have seen Menemism, Duhaldism and now we see Kirchnerism, what always remains is Peronism."
In a radio interview, De la Sota criticized the national government for not establishing political "dialogue" with those who "think differently."
"Kirchnerism tried to build a transversal movement, but whenever it has been in trouble, it has been Peronism that has ensured that the continuity and stability of the government," said De la Sota, thus becoming the first Peronist governor to openly criticize the government.
"For the past six months I have sought dialogue with the government, and regrettably with no success, which is why I had to turn to the Supreme Court," said the governor in reference to his claim that the governent owes Córdoba a debt related to the pension system.
"I received no answer to my requests, apart from through an advert shown in between matches on national TV... I like to watch the highlights during halftime, not propaganda," said De la Sota.
"I was a friend of (former later president) Néstor Kirchner, a friend with differences, but with respect. I am nobody's enemy, neither of (Buenos Aires City Mayor Mauricio Macri's) PRO party, nor the Radicals, nor the Kirchnerites, nor the Socialists. One has to respect those who think differently — we can't all expect to think the same," he said.
To further mark distance from Cristina Fernandez, last Friday De la Sota shared with the Mayor of Buenos Aires Mauricio Macri a special box at the Mario Kempes stadium where they were pictured together as they watched the Argentina-Paraguay match for the 2014 qualifiers.
"De la Sota, representing the dignity of Córdoba citizens, has said 'we've come this far'. I respect the Córdoba citizens' dignity, as they have never enjoyed being pushed around" said Macri who has also been clashing with the central governments over funds, subsidies and the transfer of services to the city.
Earlier, Macri visited Mendoza province with fellow PRO party leaders and celebrated the fact that he encountered "many people who are not willing to accept national Government who is intent in instilling fear among citizens."
"I want a peaceful country, with dialogue and accords, where the person who thinks differently is respected. I want an end to this (Venezuelan president Hugo) Chávez-like situation to which Kirchnerism is leading us to," he added.
Leaders of Macri's PRO party met in Córdoba province in order to discuss their stance in upcoming national debates.