Uruguay calls for doubling efforts in EU/Mercosur trade and association talks
Tuesday, September 18th 2012 - 16:18 UTC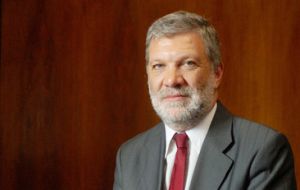 Uruguayan Industry, Energy and Mining minister Roberto Kreimerman called on the European Union and Mercosur members to double efforts and advance in negotiations to achieve a wide ranging association agreement which has been discussed for almost two decades.

"We need to double efforts from both sides", said Kreimerman meeting the press in Brussels following a business forum in Belgium. The minister said that so far there has been "no formal exchange of market access proposals" between the blocks, but he is hopeful because there has been "an informal exchange which could have a positive outcome in the coming rounds".

Kreimerman is currently in Brussels at the head of a delegation of Uruguayan business people and is scheduled to meet with the European Commission Vice-president Antonio Tajani.

"All round the world there are more protectionist measures than before. We in Uruguay believe that we need to promote as much trade as possible", said Kreimerman when asked about Uruguay's position.

"Trade has its ups and downs, sometime is opens and sometimes it closes", but trade where all sides are benefited is a win-win situation and would help "a further industrialization of our economies".

Kreimerman said that the EU and Mercosur have advanced informally on proposals regarding agriculture and manufactured goods and "we have identified difficulties in the chapters relative to intellectual property and origin indications".

Nevertheless, "Uruguay is hopeful that sometime in 2013 we can advance with the talks despite so far there is no confirmed date for a new round or discussions".

"I'm optimistic despite the long 18 years of the negotiations; I think we will advance because the proposals are quite close and we only have to eliminate a few barriers, which seem toostrong to overcome, but we will achieve it", said Kreimerman.

"We want fair trade, as fair as possible and to help us develop our full potential, as well as diversifying markets", he added.

When asked about relations among Mercosur members, particularly of Uruguay with Argentina, the minister said they are "good" although with "that country we don't have the degree of integration we enjoy with Brazil".

Regarding Paraguay, suspended from Mercosur, Kreimerman said he was convinced the situation was "transitional" and the country would be back as full member of Mercosur in the near future.

"We are hopeful this occurs as the democratic process advances in Paraguay".

Finally on Venezuela's incorporation as full member of the group, Kreimerman said it was a positive decision which enlarges the block and helps complementation.

"Obviously there are trade issues among countries that need to be overcome, but overall the integration of the (Venezuelan) energy pole with the agriculture pole will help complement a strong industrial pole", concluded Kreimerman.