Twisters kill five and destroy an estimated 5.000 houses in Paraguay
Thursday, September 20th 2012 - 05:01 UTC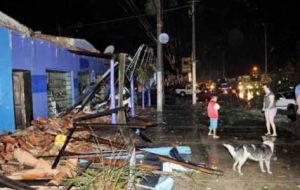 A fierce storm packing 140-kilometer an hour winds tore across the heart of South America on Wednesday, killing five people in Paraguay and wreaking havoc in Argentina and Uruguay.
The Roque Alonso suburb of the Paraguayan capital Asuncion was devastated by the storm and widespread looting was reported in its aftermath.
Four police cadets died and 15 were injured when the roof of their dormitory collapsed, and a 16-year-old boy died at a shopping center when a water tank collapsed on him outside a pharmacy.
"Roque Alonso has to be built all over again," police commander Heriberto Marmol said. Dozens of injured people flooded Asuncion hospitals and traffic was gridlocked in parts of the city.
Nationwide, at least 5,000 homes were destroyed and more than 80 people injured in storm-related incidents, Aldo Saldivar of the national emergency response center said.
The storm also blew the roof off homes and barns in Neembucu, south of the capital and knocked out power in the town of Encarnacion for many hours.
Many parts of the country have been left without electricity as the twisters collapsed power lines. Likewise drinking water supply has been interrupted.
Interior Minister Carmelo Caballero confirmed the data on deaths, injured and destroyed houses and announced that a team of 120 police personnel with trucks and buses are transporting the families left homeless to refuges and at schools, gymnasiums and military barracks.