Cristina Fernandez addressed the UN General Assembly on Tuesday
Monday, September 24th 2012 - 02:06 UTC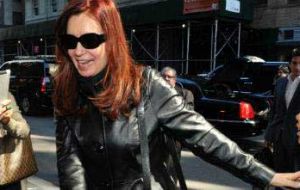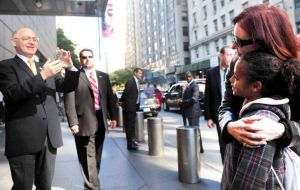 Argentine President Cristina Fernández arrived on Sunday to the United States for a five-day visit, including her participation in the United Nations General Assembly to be held in the city of New York on Tuesday.

The Head of State arrived at John Fitzgerald Kennedy International Airport at noon for a trip in which the President is expected to once again claim the Argentina sovereignty over the Falklands/Malvinas Islands and to comment on Iran's ties with the AMIA Jewish community centre 1994 terrorist attack in which 85 people were killed.

Likewise, on Wednesday, the President will travel to Washington DC, where she will inaugurate the "Argentina Course" in Georgetown University, while on Thursday she will deliver a speech at Harvard University in Boston, Massachusetts.

Along with the president travelled Foreign Presidential Legal and Technical Secretary Carlos Zannini, and Public Communications Secretary Alfredo Scoccimarro.

President and officials are hosted at the Mandarin Oriental Hotel, located in the Upper West Side of Manhattan, close to the mythical Central Park.

The first activity of Cristina Fernández will be on Monday when the leader will visit the Argentine Consulate to watch the "Evita, passion and action" exposition that looks at the life of Eva Duarte de Perón through photographs, personal objects and paintings.

The Argentine president is also scheduled to hold talks with several US corporations CEOs, much interested in convincing them to invest in the country particularly in the oil and gas industry in support of the recently nationalized YPF.