Wednesday,
October
17th
2012
- 04:04 UTC
Duke of Kent will visit the Falklands as part of the Diamond Jubilee celebrations
Falklands Government House announced on Tuesday the dates for the visit to the Islands by His Royal Highness The Duke of Kent.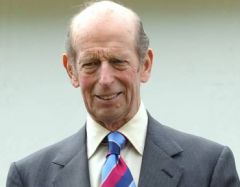 The Duke will visit from November 8-13 as part of the events being held to mark the Diamond Jubilee of Her Majesty the Queen.
During his visit he will undertake a number of official functions including opening the South Atlantic Environmental Research Institute and unveiling a plaque at the site of the Historic Dockyard; he will also visit the hospital and the Community School.
The Duke will participate in remembrance activities with visiting veterans at San Carlos on November 9 and at the Liberation Monument on November 10.
He will also attend the services in Christ Church Cathedral and at the Cross of Sacrifice in Stanley on Remembrance Sunday.