Argentina rejects bonds' discrimination ruling and will go to US Supreme Court
Saturday, October 27th 2012 - 04:23 UTC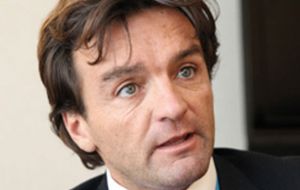 Argentina downplayed the significance of the US Appeals Court ruling in support of investment funds that were 'discriminated' in the payment of their sovereign bonds vis-à-vis those that accepted the restructure of the massive 2002 Argentine default.

The administration of President Cristina Fernandez also anticipated Argentina is prepared to the take the case all the way to the US Supreme Court if needed but will never yield to the 'vulture funds'.

"Today's sentence (Friday) is suspended from the moment it was dictated and continues suspended, so it does not alter at all the current 'status quo'" said Finance Secretary Adrian Cosentino adding that the ruling 'partially' confirms Judge Thomas Griesa decision from late 2011, which benefited 'vulture funds' demanding equal treatment for all Argentine sovereign bond holders.

Cosentino underlined that "today's ruling in no way finalizes the litigation over the 'pari passu' which will demand further procedures both in first and second instance, and of course at the US Supreme Court", where Argentina is prepared to appeal.

The 2nd US Circuit Court of Appeals in New York sent the case back to Griesa's court to clarify how a payment formula set by the judge is intended to work and to determine how the orders apply to intermediary banks and other third parties.

Likewise Cosentino said that the Appeals Court decision is "by nature conceptual and lacks all practical implementation regarding the compliance of debt servicing".