Ex Mexican finance minister named IMF Western Hemisphere director
Wednesday, November 7th 2012 - 04:34 UTC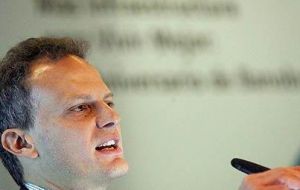 Mexican economist Alejandro Werner was named on Tuesday to the position of IMF Director, Western Hemisphere Department. His appointment will become effective early in January 2013. Mr. Werner succeeds Mr. Nicolas Eyzáguirre, who resigned effective July 26, 2012.
"Alejandro Werner has extensive public policy experience and a deep understanding of the global financial and economic system" said IMF Managing Director Christine Lagarde.
"My management team and I look forward very much to working with him, and expect he will make a significant contribution to our operations and activities in the region, and globally. The Western Hemisphere Department has front-line responsibility for economic surveillance of some of the world's most systemically important economies. With his impressive wealth of experience, Alejandro will help the IMF to be even more effective in serving our member countries in that area."
Economist Werner has been head of corporate and investment banking at Mexico's BBVA Bancomer since August 2011. Prior to that, he held a range of senior public policy positions, including serving as Mexico's Undersecretary of Finance and Public Credit from December 2006 until August 2010.
He also headed research at Mexico's central bank prior to joining the finance ministry in 2003. Mr. Werner, who has held a range of academic positions in Mexico, Spain and the United States, also served as an economist in the IMF Research and Western Hemisphere Departments in 1995 and 1996.
Werner holds a PhD in economics from the Massachusetts Institute of Technology, along with a bachelor's of science in economics from Instituto Tecnológico Autónomo de México.
His appointment comes as Mexico asserts itself globally, serving as president of the Group of 20 nations over the past year. Werner's former boss, central bank Governor Agustin Carstens, sought to rally emerging markets behind his bid to become IMF Managing Director last year, before losing out to Christine Lagarde.
Werner won the post over Juan Carlos Echeverry, who declared himself a candidate for the position of Western Hemisphere director after stepping down as Colombia's finance minister.
Werner was also instrumental in passing 2009 legislation to increase taxes to make up for falling oil revenue, Barclays Capital said when he stepped down.
President Felipe Calderon's government carried out spending cuts and tax increases in 2009 totaling more than 10 billion dollars to contain the fiscal deficit, even as the economy shrank 6.2% in the worst recession since the 1994-95 peso devaluation crisis.