Argentina takes Ghana to the Law of the Sea Tribunal over the retained frigate
Thursday, November 15th 2012 - 02:20 UTC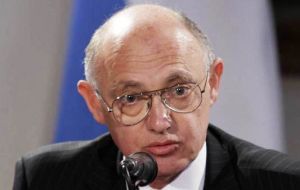 The Argentine government, as anticipated on Wednesday formally reported Ghana before the Tribunal for the Law of the Sea, in a bid to try to recuperate the ship that has been detained in Tema port since October 2. Argentina also announced it will demand compensation for the 'illicit action' losses.

The action comes after the absence of a response by Ghana to Tuesday's ultimatum over the release of the ARA Libertad frigate.

Foreign Minister Héctor Timerman announced the measure on Wednesday in a televised press conference from the Government House, Casa Rosada, where he explained the 'precautionary' action demands "from Ghana the immediate and unconditional release of the ARA Libertad frigate, and its provision so it can leave Tema port with the most urgency".

Timerman argued that Ghana had violated International Law which confirms immunity for war vessels and since both countries are signatories of the UN convention on the Law of the Sea, the vessel must be released immediately.

He explained that the 'precautionary' condition has a 'summary' implementation and it will be resolved following "oral summons" established by the Tribunal in Hamburg. "The Ministry of Foreign Affairs believes the summons will be most urgent, probably the first at the end of the month or early December".

The Argentine minister said that while the 'cautionary' request is implemented the Tribunal will have to address the "heart of the controversy" which will be decided further on.

Timerman revealed that Argentina is requesting that Ghana be made internationally responsible for the 'illicit impounding' of the frigate and to order Ghana to pay compensation for all legal and other damages incurred by such an illicit action and to publicly redress Argentina's symbols, which have been challenged from the moment the Navy's flagship immunity was ignored".

Asked how confident Argentina was about the cautionary actions, Timerman said he believed the Hamburg tribunal would rule in favour since International Law supports Argentina's request, and "it will be an immediate action".

The frigate has been controversially detained since October 2 in the port of Tema, after a Ghanaian judge ruled in favour of NML Capital, an investment or "vulture" fund that is demanding the payment of Argentine bonds, capital and interest, totalling 370 million dollars.

The Argentine government argues that the seizure of the ship represents an infringement of sovereign rights, the Law of the Sea and the Vienna Convention.

The Tribunal for the Law of the Sea is an international court that was formed to mediate disputes on the United Nations Convention on the Law of the Sea. The maritime tribunal seated in Hamburg usually takes several months to deliver a verdict on such dispute.