Austerity unites Europe: millions turn out disrupting services and clashing with police
Thursday, November 15th 2012 - 00:13 UTC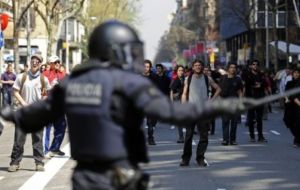 Millions took to the streets across Europe in a co-ordinated day of protest against austerity measures. The European Trade Union Organisation says austerity is a "total dead end" and called for industrial action across 23 countries.

Police clashed with noisy protesters who roamed the Spanish capital Madrid, while further violent scuffles were reported elsewhere in the country. Workers in Portugal, Greece, Italy, France, and Belgium also staged demonstrations as part of the so-called "European Day of Action and Solidarity".

Police and protesters clashed in Spain on Wednesday as millions of workers went on strike across Europe to protest spending cuts they say have made the economic crisis worse.

Hundreds of flights were cancelled, car factories and ports were at a standstill and trains barely ran in Spain and Portugal where unions held their first ever coordinated general strike.

Riot police arrested protesters in Madrid and hit others with batons, witnesses said and in Rome students' pelted police with rocks in a protest over money-saving plans for the school system.

International rail services were disrupted by strikes in Belgium and workers in Greece, Italy and France went on work stoppages and demonstrations as part of the "European Day of Action and Solidarity".

"We're on strike to stop these suicidal policies" said Candido Mendez, head of Spain's second-biggest labour federation, the General Workers' Union, or UGT.

More than 60 people were arrested in Spain and 34 injured 18 of them security officials after scuffles at picket lines and damage to storefronts. In Rome a policeman was seriously injured when attacked with rocks and baseball bats.

Protesters jammed cash machines with glue and coins and plastered anti-government stickers on shop windows. Power consumption dropped 16% with factories idled.

International lenders and some economists say the programs of tax hikes and spending cuts are necessary for putting public finances back on a healthy track after years of overspending.

While several southern European countries have seen bursts of violence, a coordinated and effective regional protest to the austerity has yet to gain traction and governments have so far largely stuck to their policies.

Spain, where the crisis has pushed millions into poverty, has seen some of the biggest protests. Prime Minister Mariano Rajoy is trying to put off asking for European aid that could require even more budget cuts.

Passion was inflamed when a Spanish woman jumped to her death last week as bailiffs tried to evict her from her home. Spaniards are furious at banks being rescued with public cash while ordinary people suffer.

In Portugal, which accepted an EU bailout last year, the streets have been quieter but public and political opposition to austerity is mounting, threatening to derail new measures sought by Prime Minister Pedro Passos Coelho.

His centre-right government was forced by protests to abandon a planned increase in employee payroll charges, but replaced it by higher taxes.

Passos Coelho's policies were held up this week as a model by German Chancellor Angela Merkel, who is despised in much of southern Europe for insisting on austerity as a condition of her support for EU aid.

Some 5 million people, or 22% of the workforce, are union members in Spain. In Portugal about a quarter of the 5.5 million strong work-force is unionized.