After dreadful year, great expectations in Argentina with 2012/13 soybean crop
Saturday, November 17th 2012 - 06:04 UTC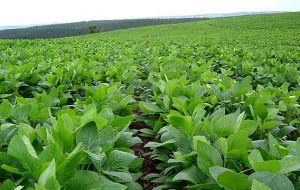 Argentine farmers will increase soy planting by almost 4% following a year of bad global crop weather. In the first soybean area estimate of the 2012/13 season, the Argentine Agriculture Ministry said 19.4 million hectares will be sown in the weeks ahead compared to 18.7 million hectares in 2011/12.
Tight grain stocks after a year of dry farm weather from Iowa to southern Russia to Australia may push prices up to record highs as traders wait to see if upcoming harvests will be big enough to stave off a full-blown supply crisis.
Chicago soybean futures have already risen 18% this year, with corn up 12% and wheat up 31%. Sharp food price increases have serious implications for the global economy, driving up inflation at a time when consumers in many developed countries are struggling with rising unemployment.
Argentina is the world's third-largest soybean exporter after Brazil and the United States. The country is also a top corn and wheat supplier and is key to bolstering world food stocks.
The United Nations predicts global food demand will double by 2050. South America is being counted on to provide most of the increase in world grains production between now and then.
While most industry analysts say Argentine soy plantings will increase this year, growers are struggling to keep early seeding on schedule because of flooding caused by months of heavier-than-normal rains.
Farmers in the main agricultural province of Buenos Aires have watched their heavy seeding machines get stuck in the mud after a series of storms started lashing the Pampas in August.
The US Department of Agriculture expects Argentina to harvest 55 million tons of soy, 11.5 million tons of wheat and 28 million tons of corn in the 2012/13 crop year.
In its weekly crop report on Thursday, the Buenos Aires Grains Exchange said farmers had so far seeded 22% of the estimated soy area of 19.7 million hectares. With regard to commercial-use corn, 45% of the 3.4 million hectares expected to be planted this year have been seeded, according to exchange data. Farmers have collected 15% of 2012/13 wheat, progressing by 2.5 percentage points during the week.