ARA Libertad case to be discussed by Argentina and Ghana November 29/30
Saturday, November 17th 2012 - 05:59 UTC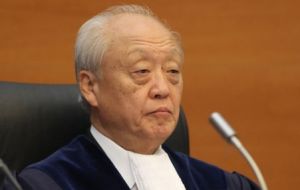 Argentina announced on Friday that the International Tribunal for the Law of the Sea proposed November 29 and 30 as the days to hold the hearings between Argentina and Ghana over the seizure of the ARA Libertad Frigate at Ghana's Tema Port.

Argentina last Wednesday filed a lawsuit against Ghana at the UN Tribunal of the Sea in Hamburg to demand the release of the ARA Libertad training frigate, which has been stranded for over six weeks in the African country due to a court order brought by bondholders.

Before the oral hearings, there will be a round of consultations between delegates from the two countries.

"Argentina has accepted the dates proposed by the Tribunal for the oral hearings as the other aspects of the procedure which were discussed in a tele-conference between the two sides and Hamburg", according to the Ministry's release.

Argentina had filed the lawsuit last week arguing that the release of the vessel should be 'unconditional and immediate". ARA Libertad has been retained since 2 October following an order from a New York court presented by holders of Argentine defaulted bonds that did not accept the restructuring offered by Argentina in 2005 and 2010.

The tele-conference included Judge Shunji Yanai president of the Law of the Sea tribunal and representatives from both countries and was geared to consult the two sides on procedure aspects in the next stage of the 'precautionary' measure presented by Argentina.

The administration of President Cristina Fernandez is requesting that Ghana be made internationally responsible for the 'illicit impounding' of the frigate and to order Ghana 'to pay compensation for all legal and other damages' incurred by such an illicit action and 'to publicly redress Argentina's symbols, which have been challenged from the moment the Navy's flagship immunity was ignored'.