"Technical issues" delaying Argentine Navy vessel departure from South Africa
Saturday, November 17th 2012 - 05:53 UTC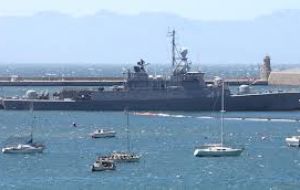 The Argentine Navy said that repair works in the corvette ARA Espora, which has been stranded in South Africa for over five weeks "are 65% completed" and denied there were any debts pending with the German company that is responsible for the maintenance of the MEKO class corvettes as was reported earlier in the Buenos Aires press.
"Advance in the repair works of the vessel to this day are close to 65% completed and the Navy has no arrears with the German company MTU since payments are being made effective as agreed when the service was contracted", said a release from the Argentine Navy.
Earlier in the day the Buenos Aires media had reported that the corvette was delayed because it was waiting for spares and technicians from MTU to repair malfunctioning power generators, but the company was demanding full payment of arrears and an advance to address the current job, a total sum in the range of 1.5 million dollars.
"Until the bill is not fully paid, the Germans won't move a finger. They also want advance payment for the job" a Navy source confided to La Nacion. The pending debt is not quite clear but for this job "they are demanding an advance payment of 450.000 dollars".
However the official release said that the "vessel was not retained but involved in planned sailing preparations duties" adding that "the original timetable for preparing the vessel has been adjusting to technical issues"
ARA Espora has been docked at South Africa's main naval base of Simons Town since last 10 October when the vessel was forced to abandon the joint exercise 'Altasur IX' in the South Atlantic with the navies from Brazil, South Africa and Uruguay, following the malfunctioning of three generators.
The 1.400 tons displacement ARA Espora with a crew of 110 was launched in 1985 and is one of the six built at the Rio Santiago ship yard with blueprints and technology from Germany's Blohm and Voss. She's a MEKO 140 Class, and is made up of several modules which facilitate upgrading and repairs according to Argentine naval sources.
Following the announcement last month that the corvette was stranded in South Africa there were strong concerns that she might face a similar situation to that of the Argentine Navy's flagship ARA Libertad impounded and retained in Ghana since early October on request from the investment fund NML Capital acting through a New York court favourable ruling.
In early November South African Foreign Minister Maite Nkoana-Mashabane admitted after meeting with her Argentine peer Hector Timerman in Pretoria that "the South African government was aware of the issue. The Ministry of Defence has been informed and instructed".
Consulted the South African embassy in Buenos Aires about such a possibility, a spokesperson said that until Thursday there had been no formal presentation before a South African Justice court demanding such an action by any investment fund.