Australia imposes a two-year ban on super-trawlers
Monday, November 19th 2012 - 11:19 UTC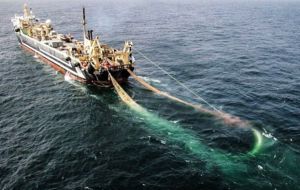 Australian Environment minister Tony Burke signed into force on Monday a two-year ban on any super trawler operating in the small pelagic fishery. The ban is based on a battery of new laws and seems directed to the arrival to Australia of the Dutch vessel Abel Tasman.

Minister Burke, according to the Brisbane Times acknowledged operator Seafish Tasmania had made it clear it would pursue all available legal options in response to the ban, but said: "We believe we're on completely strong legal ground".

"Under environmental law it is not uncommon for a project to be held up while checks are being performed," Mr Burke said. "Not uncommon at all."

After months of controversy about the largest fishing vessel ever slated for Australian waters, Mr Burke in September declared an interim ban on trawling in the small pelagic fishery by any vessel of the 142-metre Abel Tasman's size.

It had planned to trawl offshore between New South Wales and Western Australia for up to 18.000 tons of redbait and mackerel.

Mr Burke said his mind was made up to enforce the ban after a 60 day comment period when he was advised of uncertainty about the 142 metre Dutch-owned trawler's effect on localised depletion of its target redbait and mackerel species.

There were also doubts about the trawler's effects on target species' predators, including dolphins and seals, he said. An expert panel will now be convened to assess the effects of the super-trawler over the two year period, and report back to the minister.

Seafish was taken aback by the government's decision, after it sought to negotiate a compromise with Minister Burke to address the specific concerns and was rebuffed. Seafish director Gerry Geen saidthe joint venturers did not want to go down the route of legal action, but all options would be on the table.

Mr Geen said they were "absolutely" entitled to compensation for the many millions of dollars the venture had cost so far.

"Any reasonable person would say that if you were given a green light by a government, and then months later you are stopped, then yes, we should be compensated," Mr Geen said.

The Coalition's Fisheries spokesman, Richard Colbeck, said Mr Burke had trashed the reputation of Australia's science-based fisheries management system in favour of populism, just as the Government did with the live export industry.

The ship remains tied up at Port Lincoln, South Australia, and the Stop the Supertrawler Alliance said it expected the vessel to now leave Australian waters.