Spending galore: Argentine central bank financing Treasury outlay shortcomings
Tuesday, December 4th 2012 - 05:49 UTC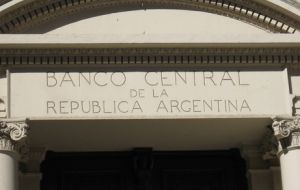 The Argentine central bank has been financing the Treasury with so called 'transitory advances' to the tune of 101 billion Pesos (approx 20bn dollars), a sum which is expected to increase given the additional outlays of the end of the year particularly with the Christmas bonus.

The data is published in the Central bank's November 23 balance sheet and represents a hefty 17.5% over the 86.25billion Pesos a month before and an even more significant 98% from a year ago when the advances item stood at 51.2billion Pesos.

Appealing to Central bank funds is in line with the outlays voted in Congress which are also met with resources from the Social Security funds.

The evolution of 'advances' confirms that the central bank has become the main financer of President Cristina Fernandez administration fiscal shortcomings, and lately has played a role in the purchase of bonds issued by the recently nationalized oil and gas corporation YPF.

The Argentine budget for 2013 also specifies that central bank reserves will be used to pay capital and interests totalling 7.9bn dollars next year but funds are also expected to be used for paying the soaring bill of imported fuel. If this is confirmed it will be the first time funds are not utilized exclusively to lower the level of sovereign debt.

This instrument as a financing alternative was introduced to the bank's charter and contemplates 'exceptional' advances to the Treasury of up to 20% of planned revenue on an 18 months basis. Likewise the review allows financing equivalent to 12% of the monetary base, which means the Argentine government can count with an estimated 60bn Pesos to keep increasing spending.

This 'advances' policy is seen by local economists as inflationary but the Central bank argues that most of that liquidity is absorbed by local depositary bonds. Nevertheless the monetary basis has increased 36% so far this year, but again the bank blames it ton 'plastic' credit.

The central bank also recently approved a resolution by which banks lending to the public sector do not need to hold technical reserves. It was explained that this is not geared to further promote credit but rather to bring relief to government banks already heavily committed with loans to the provincial governments.