Argentine Jewish organizations slam President Correa 'disdainful words' towards terrorist attacks' victims
Wednesday, December 5th 2012 - 17:20 UTC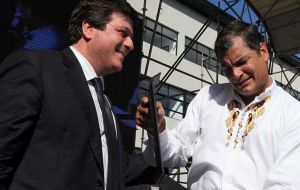 Argentine Jewish organizations strongly criticized Ecuador's president, Rafael Correa after he defended the Iranian government, comparing the 85 people killed in the 1994 AMIA attacks in Buenos Aires with the victims of "NATO bombings in Libya" in 2011.

Correa made the statements on Tuesday in Buenos Aires, before the Ecuadorean leader was recognized with the Rodolfo Walsh award, given to him by La Plata University, a prize previously awarded to Venezuela President Hugo Chavez and Bolivia President Evo Morales.

The Simon Wiesenthal Centre, the global Jewish human rights organization that confronts anti-Semitism, accused Ecuadorian President Rafael Correa of "justifying" the terrorist attack on the AMIA Jewish community centre which killed 85 people and left hundreds injured and maimed in 1994.

"Correa's disdainful words against the victims of the terrorist attack sponsored by Iran, speaks for itself.

"By engaging in an anti-imperialist demagogue speech, he has justified a massacre that took place in Buenos Aires," Shimon Samuels said, international relations director for the organization.

Similarly, the head of the DAIA Jewish community umbrella organization also showed their "regret" for the comments made by the Ecuadorian leader. The president of the organization Julio Schlosser said that the statements were "unfortunate" and remarked that the Argentine government should make a public declaration over the situation.

Ecuador has very close trade and political links with Iran and is a strong critic of US 'imperialism' and western foreign policy.