Chevron dispute with Ecuador discussed by Correa with Cristina Fernandez
Wednesday, December 5th 2012 - 18:26 UTC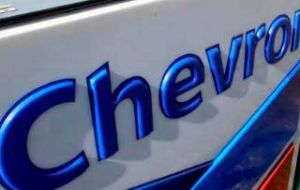 Ecuador's President Rafael Correa said he discussed with his Argentine counterpart Cristina Fernandez the legal dispute with US oil giant Chevron that has spilled over into her country.

"We're going to keep addressing the Chevron case. It's a private matter. But the company is trying to delegitimize this court action that it lost to our Amazon villagers," Correa told a Argentine news channel during his visit to Buenos Aires.

"We're not going to intervene. But we are going to stand by our citizens."

Last year, a court in Ecuador ordered Chevron to pay 19 billion dollars for years of what indigenous groups and local farmers say was unchecked pollution in the Amazon by Texaco Petroleum, which Chevron acquired in 2001.

Chevron has appealed the decision, accusing the judge who ruled on the case of fraud and breach of trust.

The plaintiffs have filed lawsuits in Argentina, Canada and Brazil to go after the company's assets in third countries, saying Chevron has virtually no assets in Ecuador that could be seized.

Last month, an Argentine judge froze Chevron's local assets. The US oil giant has also disputed that ruling as baseless.

Argentina has great expectations that Chevron will help nationalized YPF develop shale deposits in Patagonia.

Correa met Cristina Fernandez on Tuesday in Buenos Aires, but details of the meeting were not made public besides very limited comments from the Ecuadorian leader.