London Mayor presses PM Cameron on the EU calling for a referendum
Wednesday, December 5th 2012 - 18:08 UTC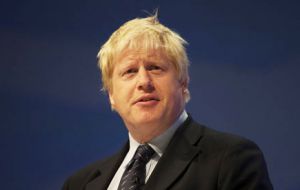 London Mayor Boris Johnson heaped pressure on Prime Minister David Cameron this week by calling for a referendum on a deeply pared back British membership of the European Union.
Johnson, speaking at a Thomson Reuters Newsmaker event, said the Euro was a calamitous project and that Britain should negotiate a new treaty to prevent its slide out of the world's biggest economic area.
"Boil it to down to the single market, that's the great achievement of the European Union, I think we could easily scrap the social chapter, the fisheries policy," Johnson, a Conservative party member seen as a potential rival to Cameron, said in a speech.
"That is a renegotiated Treaty we could and should put to the vote of the British people.
"It is high time that we had a referendum, and it would be a very simple question. Do you want to stay in the EU single market — yes or no?"
Johnson sidestepped three questions on whether he would like to be a future prime minister but he has set a high bar for Cameron. Negotiating such a new deal with Europe would be extremely difficult with EU allies unlikely to approve such a radical treaty change.
"There will be a huge barrage from foreign legations saying 'This is not on the table, there is no way we'll accept this,'" said Johnson, a formidable campaigner whose messy mop of platinum blond hair makes him instantly recognizable.
"The choice is going to be very simple: it's between staying in on our terms or getting out" he told the audience of investors and bankers.
Dropping out of the European Union could isolate the world's sixth largest economy and bankers warn that such a dramatic move would sap the power of the City of London, Europe's dominant financial centre.
But the turmoil of the eurozone crisis and the prospect of the currency bloc forming a closer political union that London will not join have convinced many within the ruling Conservative party and beyond that they must seek a new deal with Europe. The issue, which has ripped previous Conservative administrations apart, has shot to the top of the political agenda with anti-EU party lawmakers pushing for a looser relationship with the 27-nation bloc — or even leaving altogether.