US court rules in favour of Argentina: denies security deposit requested by hedge funds
Wednesday, December 5th 2012 - 00:07 UTC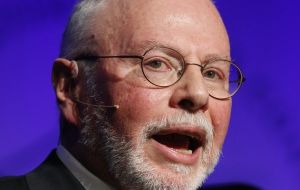 US appeals court refused to order Argentina to post a security deposit of at least 250 million dollars while it seeks to overturn a lower court ruling that orders it to pay holdout investors 1.33 billion.

Holdout creditors have sought to force Argentina to deposit the money by December 10 while Argentina appeals last month's order by US District Judge Thomas Griesa that it pay the creditors in full.

Argentina had won a reprieve last Wednesday when the US Second Circuit Court of Appeals in New York said Argentina need not deposit 1.33 billion into the escrow account by December 15 to satisfy the holdout creditors' claims.

Holdouts then filed a motion seeking a security deposit be made to show Argentina was acting in good faith with the court.

"Appellees request that this Court amend its November 28, 2012 stay order by requiring the Republic of Argentina to post security on or before December 10, 2012. IT IS HEREBY ORDERED that the motion is DENIED," the 2nd Circuit said in its one line ruling.

The 2nd Circuit has scheduled oral arguments in the case for Feb 27, 2013.

The holdout creditors including Elliott Management's NML Capital Ltd and the Aurelius Capital Management funds are seeking full repayment on their defaulted Argentine bonds after spurning debt exchanges in 2005 and 2010 that 93% of other bondholders accepted.

The Argentine government has called the holdout creditors "vultures" and vowed never to pay them.

The latest battle stemming from Argentina's 100 billion dollars sovereign default nearly 11 years ago centres on a 2nd Circuit decision in October that the country violated a bond provision requiring it treat all creditors equally when it paid the exchange bondholders without paying the holdouts.

December 15 is a critical day because Argentina is scheduled to pay 3 billion dollars on warrants issued as part of the debt swaps.

This had raised fears of another default because if Argentina had refused to pay the holdouts, as was expected, US courts could have disrupted payments to holders of restructured bonds.

Argentina next owes money on its restructured debt in March 2013.

The case is NML Capital Ltd et al v. Argentina, 2nd US Circuit Court of Appeals, No. 12-105.