Brazil says President Chavez attendance to Mercosur summit is "uncertain"
Thursday, December 6th 2012 - 07:45 UTC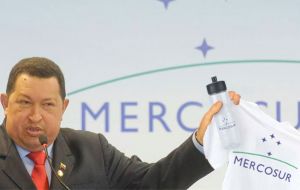 The presence of President Hugo Chavez at Friday's Mercosur summit is "uncertain" reported the official Brazilian news agency on Wednesday adding that the organizers are waiting for a confirmation of his trip to Brasilia.

"We are waiting for the confirmation" said Antonio Ferreira Simoes head of the Latam desk at the Brazilian Foreign ministry when asked about President Chavez's attendance. Chavez since November 27 is in Cuba for a special post-cancer treatment and physiotherapy, according to Caracas.

Both Chavez trip to Cuba as well as the special treatment he is undergoing was announced a few hours before he left Caracas and six months after the conclusion of the radiotherapy to which he was exposed to combat a cancer in the pelvis area for which he also underwent three surgeries since June 2011.

Ferreira Simoes added that Chavez 'always' announces his attendance to summits at last moment and revealed the president had confirmed the trip to the Brazilian Foreign ministry. However this "was at least twenty days ago" before his unexpected return to Havana which even surprised his closest aides.

The Venezuelan embassy in Brasilia was also mute about Chavez presence and the Brazilian news agency quoting Brazilian Executive sources then released that "Chavez attendance is uncertain".

Mercosur diplomatic sources said that attention now has moved from the summit to concerns about the real health condition of the Venezuelan president.

"This is the first summit Chavez will be sitting at the big table as a full member of Mercosur, and that is why it is so important that he comes", indicated the sources. However given the lack of official confirmation and hard news, be it not for speculations, the mystery will be solved Thursday night or early Friday morning, a few minutes before breakfast hosted by President Dilma Rousseff.

According to the Brazilian foreign ministry Argentina's Cristina Fernandez and Uruguay's Jose Mujica will be arriving Thursday night to avoid an early trip and to be on time for breakfast with Dilma. The two leaders are staying at the same hotel booked by Venezuela for President Chavez and his delegation.