Supreme Court will decide on Clarin/Argentine government conflict next week
Saturday, December 8th 2012 - 04:02 UTC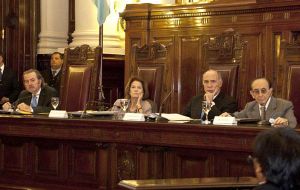 The Argentine Supreme Court delayed on Friday until next week an answer to President Cristina Fernandez administration's complaint referred to the Media Law when the seven Justices are present. Currently one is overseas on an academic trip and two others were unable to attend the emergency meeting.

On Friday the high court received two 'per saltum' pleas that sought the annulment of a Civil and Commercial Court of Appeals' ruling which further extended an injunction placed by Clarín media group on Article 161 of the Media Law.

The two-hour meeting was held by the Supreme Court's president, Ricardo Lorenzetti, and Justices Elena Highton de Nolasco, Enrique Petracchi and Juan Carlos Maqueda.

The justices analysed the complaints and decided to send copies to Raul Zaffaroni, on a conference trip in Colombia and to Carmen Argibay and Carlos Fayt, also absent at the meeting.

The Argentine government wants the injunction dropped so that under controversial article 161 of the Media Law it can begin to dismember the Clarin group by forcibly selling or tendering all those broadcasting, television and cable licences, beyond the limit allowed by the 2009 law.

However the injunction was originally presented and extended on Thursday by a Civil and Commercial Appeals court since the Clarin Group is waiting a decision on the constitutionality of Articles 45 and 161 of the Media Law.

With the 'per saltum' plea the Argentine government avoids the lower courts and appeals directly so that the Supreme Court decides on "serious institutional cases". Under the law the mere admission of the plea suspends all other actions, in this case the injunction and the Argentine government could then proceed to the dismembering of the Clarin group with no need to wait for the constitutional question of article 161.

However if the court throws out the plea the case continues as it was meaning the Argentine government would have to again appeal the injunction which would probably finally end on the desks of the Supreme Justice.

But the Supreme Court did throw out as 'inadmissible' a plea from the Clarin Group for the Justices not to consider the Argentine government 'per saltum' plea.