Paraguay: UN demands clarification of peasants' killings that triggered political crisis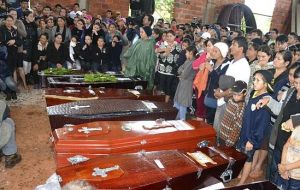 The United Nations resident coordinator called on the Paraguayan government to investigate and clarify the killings of Curuguaty last June, which triggered the removal of then President Fernando Lugo and his replacement by Federico Franco.

Lorenzo Jimenez made the claim during the official celebration of Human Rights Day on Sunday 10 December with the attendance of President Franco and members of the Supreme Court at the Tribunals Palace in Asuncion.

The UN representative said that if the country wants to continue along the path to enhance human rights it must clarity the Curuguaty killings and the recent homicide of the peasants' leader Vidal Vega.

Jimenez said that the killing of six policemen and eleven small farmers last 15 June in a shootout during an eviction operation of 'landless peasants' in an estate in Curuguaty was unprecedented in the country and must be solved.

The land where the killings took place is in dispute between the Paraguayan state and the heirs of recently deceased businessman Blas N Riquelme, and is part of the ongoing clashes over land grabbing in many areas of Paraguay.

As a direct consequence of the incident on 15 June, then President Lugo was faced with impeachment by the Senate and in an overwhelming vote removed and replaced by Franco, a decision which Mercosur and Unasur did not accept and described as an interruption of democratic order.

Likewise the peasant leader Vega who was working with the relatives of the victims of Curuguaty, was shot dead at his home, in early morning last December first, by two killers on a motorcycle who are still at large. He was also a resident of Curuguaty.

President Franco said at the ceremony that his government is committed to solving the case of the killings at Curuguaty and is fully supportive of the courts, including the latest case of the death of Vega.

The UN representative thus joins similar claims in recent weeks from Amnesty International and the Inter American Commission on Human Rights, IACHR, concerned that six months have gone by and there is apparently little or no advance in the investigations.