Argentina pays GDP-linked bonds; Central bank reserves fall to lowest since 2007
Saturday, December 15th 2012 - 21:06 UTC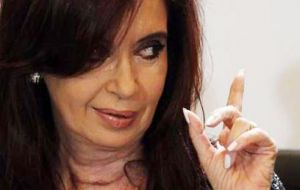 Argentina made payments of over 3.5 billion dollars on Friday in GDP-linked bonds which refer to the 2005 and 2010 rescheduling agreed with creditors who originally held 2001/02 defaulted sovereign bonds. At the same bank the Central bank revealed that international reserves have fallen to its lowest since 2007.

Central bank reserves now stand at 43.8 billion dollars, when in July 2010 they had reached record 50.6bn dollars.

The Argentine government decision to appeal to international reserves to pay for debt payment of capital and interests triggered a strong controversy and institutional clash at the beginning of 2010 which ended with the resignation of then Central bank president Martin Perez Redrado, who was against the decision. However President Cristina Fernandez managed to pass a bill in Congress in support of her position.

However the payment of the GDP-linked bond, maturing December 15, three weeks ago was in serious doubt after New York Judge Thomas Griesa ruled in November that Argentina had to pay the hold-out bondholders who had not entered the debt-swaps 1.3bn dollars.

The Judge threatened to order the seizure of funds which Argentina planned to deposit in New York Mellon bank to pay these bondholders, which would have put Argentina on the threshold of a 'technical default'.

However the ruling was appealed and the Court suspended the decision until an audience on 27 February, so that as happened, the restructured bond holders could collect their payments.

The litigants are the hedge funds ('vulture funds') NML and Aurelius which hold defaulted bonds, part of the 7% which did not restructure and did not accept swapping for new bonds. The other 93% of the 2001/02 default totalling almost 100bn dollars accepted the restructure.