"Support linked to competitiveness" Merkel tells the EU members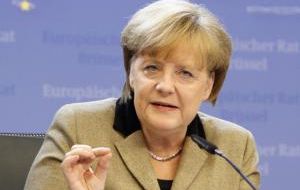 European leaders agreed on Friday to press on with further steps to tackle their debt crisis but German Chancellor Angela Merkel threw out a proposal to boost risk-sharing with a fund to help Euro zone states in trouble.

Germany's rejection of an idea strongly backed by France showed the potential for more tensions over crisis management, a day after the bloc clinched a deal on Euro zone-wide banking supervision and approved long-delayed aid to Greece.

After more than eight hours of late-night talks, leaders promised to push ahead with setting up a mechanism to wind down problem banks and launched talks on how to make countries stick to economic targets with the help of a common fund.

But at an early morning news conference, Merkel made clear that proposals for a substantial "shock absorber" fund and common unemployment insurance were off the table, setting out a far more restrained carrot-and-stick vision.

"We are talking about support linked to improvements in competitiveness." Merkel told reporters of the fund envisaged. "We are talking about a very limited budget. Not three digit billions, rather 10 or 15 or 20 billion Euros. "

European Council President, backed by France and other countries, proposed in the run-up to the summit establishing a more ambitious "fiscal capacity" for the Euro zone that could form the basis for common debt issuance -- an idea seen with great scepticism in Berlin.

French President Francois Hollande insisted the aim of closer fiscal integration would still be to bolster growth and jobs as well to encourage reform.

However he distanced himself from the idea of a large Euro zone standby budget to tackle one-off economic shocks.

"I prefer to talk about a solidarity mechanism," he told a news conference, adding that leaders had charged EU President Herman van Rompuy with setting out the details next year.

With officials concerned about complacency creeping into decision-making now that financial markets have calmed and the crisis seems less acute, leaders appeared intent on showing that they are not relaxing.

That said, German elections late next year and France's reluctance to consider any EU treaty changes needing an awkward referendum before European Parliament elections in 2014 are already putting a brake on the pace of decision-making and limited the summit to verbal commitments rather than decisions.